Academic and Service Awards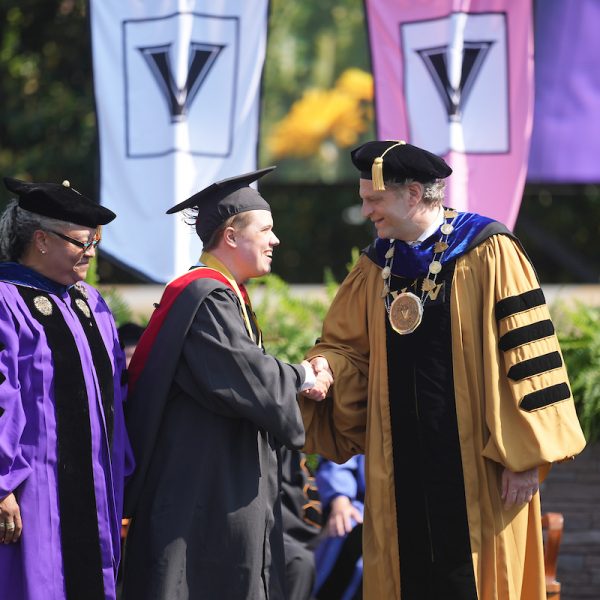 The Founder's Medal for first honors in the Divinity School's Class of 2022:
Adrian White
The Academic Achievement Award:
Kay Heffernan
The Umphrey Lee Dean's Award for exemplifying the mission and vision of the Divinity School:
Ristina Gooden
The Florence Conwell Prize for accomplishments in preaching:
Ristina Gooden
The Saint James Academy Award for composing the outstanding sermon:
Ashley Buchanan
The Frederick Buechner Prize for excellence in preaching:
Molly Williams
The Frederick Buechner Prize for the Master of Theological Studies thesis:
Kay Heffernan
The W. Kendrick Grobel Award for accomplishments in Biblical studies:
Rebekah Cecilia Rochte
The J.D. Owen Prize for accomplishments in New Testament:
Joryán Hernández
The John Olin Knott Award for scholarly and creative writing:
Will Compton, Farrell Mason, Sebastian Levar Spivey
The Elliott F. Shepard Prize for accomplishments in church history:
Molly Williams
The Wilbur F. Tillett Prize for accomplishments in the study of theology:
Mari Ramler
The Nella May Overby Memorial Award for honors in field education:
Instead of presenting the award this year to one individual, the Overby Award is presented to all degree candidates who were enrolled in field education courses during the academic year and who adapted to the challenges of remote and hybrid instruction as the university confronted the effects of the pandemic. For their initiative, creativity, and perseverance, these students collectively have earned the Overby Award in field education. 
The William A. Newcomb Prize for exemplifying the idea of minister as theologian and for receiving honors on one's Master of Divinity degree project:
Courtney Ariel Bowden
The Liston O. Mills Award for academic distinction in pastoral theology and the study of religion, psychology, and culture:
Ristina Gooden
The Disciples Divinity House Scholar Award for academic distinction by students representing the Christian Church, Disciples of Christ:
Will Compton
The Robert Lewis Butler Award for service and ministry in the African American Church:
Brandon Evans
The United Methodist Student Association Award for exemplifying the Wesleyan ideals of Christian servant leadership:
Myra Moreland
The Bettye R. Ford Graduate Student Service Award for significant contributions to Vanderbilt University's Graduate Department of Religion:
Katrina Olson
The Student Government Association Service Awards presented to the students and to members of the administration, faculty, and staff for significant contributions to the Divinity School community:
Students: Courtney Ariel Bowden and Ristina Gooden
Faculty: Lisa Thompson, Associate Professor and the Cornelius Vanderbilt Chair of Black Homiletics and Liturgics
Certificates
The Carpenter Program in Religion, Gender, and Sexuality:
Emily Joy Allison, Courtney Ariel Bowden, Kay Heffernan, Camille Kammer, Alia Noel Norton, Michael Schulte, and Simone Temple
Religion and the Arts in Contemporary Culture:
Courtney Ariel Bowden, Dana Jo Cooley, Dre Davis, and Sebastian Levar Spivey
The Center for Latin American Studies:
Joryán Hernández
Jewish Studies:
Megan Cammack and Ezra Yung Howe
Learn more about Vanderbilt Divinity School awards here.