Overview
The Doctor of Ministry (D.Min.) in Integrative Chaplaincy is a three-year, 36-credit advanced professional program undertaken alongside a student's work as a chaplain in a professional ministry setting (e.g. healthcare, military, prisons, or other organizations), with the aim of better equipping students to address whole person healthcare needs - both as individual spiritual care providers and as collaborative professionals partnering with other care providers. An M.Div., M.T.S., or equivalent degree and work as a chaplain are required for admission.
Chaplains who complete this program will be able to: 
Identify the signs and symptoms of mental health (MH) problems;
Use evidence-based psychological practices and principles within the scope of chaplaincy practice;
Collaborate effectively with MH and other healthcare professionals;
Foster resilience and prevention of MH problems;
Critically interpret, use, and potentially participate in scientific research;
Understand important psychological processes, psychosocial issues, and their intersection with religion and spirituality;
Provide care for care providers and practice good self-care;
Address the distinctive religious, spiritual, cultural, and relational needs of persons with MH problems;
Think theologically and engage religious and/or spiritual traditions as sources of strength and transformation;
Develop a pastoral-theological ethic that guides their ministerial identity and understanding of suffering, trauma, and human flourishing.
DMin at VDS
Chaplains serve as spiritual and emotional caregivers who often operate in ministry contexts where they are called upon to meet the needs of a wide array of individuals, frequently doing so in collaboration with other professionals. The aim of this program is to better equip chaplains to provide high-quality, collaborative, evidence-based care for persons with diverse psychosocial-spiritual needs.
Since its inception along with the founding of the university, Vanderbilt Divinity School has functioned as a university-based, interdenominational school, seeking to embody the Purposes and Commitments. This non-denominational affiliation and commitment to forming students for ministry in a global and multi-religious world provides strong synergism with the work of chaplaincy - especially for chaplains who serve in diverse, pluralistic, multi-religious contexts, such as healthcare settings, the military, prisons, or organizational chaplaincy.
In various ways, the D.Min. in Integrative Chaplaincy program truly seeks to make chaplaincy more integrative.  The program integrates research-informed knowledge and evidence-based approaches with spiritual care practices, and integrates chaplains more completely as valued partners and leaders in the variable systems where they operate. The coursework and range of faculty disciplines (e.g., psychiatry, chaplaincy, psychology, theology) reflect and model this commitment to integrative care and training. 
About the Degree
The D.Min consists of hybrid courses that feature a range of interdisciplinary experts and that are designed for application within the diverse contexts where chaplains work. Courses combine regular synchronous online seminars with content delivered asynchronously. Students are enrolled in synchronous class meetings that can accommodate their work schedules.
Three 3.5-day, on-campus training intensives occur at VDS, one in each of the first three semesters. The remainder of the coursework is conducted utilizing online educational platforms, video conferencing, and other distance education modalities.
The first three semesters are aligned with the Mental Health Integration for Chaplain Services (MHICS) training. These courses and practica are tightly connected with each other. Content from the coursework is applied and consultatively reviewed as part of each practicum. Core instructional and consultative capacities for this foundational part of the D.Min. are anchored by faculty who are affiliated with Integrative Mental Health in the Department of Veterans Affairs (VA).
The final three semesters' seminars are taught by VDS faculty and focus on crafting the 45-60 page D.Min. Project.  Each Project is organized around a problem the student has encountered in their chaplaincy practice, which the student then analyzes and addresses using what they are learning in the D.Min program, including on-line modules (accessed asynchronously) created by VDS faculty that provide relevant theological content. The project is drafted and refined over the three semesters through peer and faculty feedback.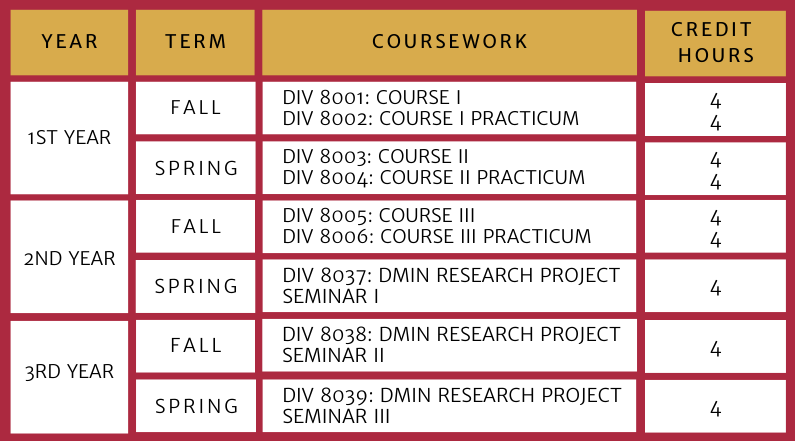 Questions?
For information about eligibility, the admissions process, and financial aid, please reach out to Rev. Dr. Soren Hessler, the Director of Recruitment & Admissions.