The Master of Theology (Th.M.) degree is recognized internationally as a degree that enables students, who already possess a Master of Divinity (M.Div.) or equivalent first theological degree, to return to school in order to deepen their study in a particular area related to their ministry or to prepare more fully for applying to doctoral programs.
The Th.M. at Vanderbilt Divinity School is a 30 credit hour program designed around the student's vocational aims and a specific academic area/discipline. The degree provides students the opportunity to develop meaningful research questions and rigorous research methods in order to explore, analyze, and ultimately formulate constructive insights in a particular area of advanced theological study.
The first Th.M. application deadline is January 15th. Applications are evaluated again if received between January 15th and April 1st. Applications evaluated on a rolling basis through June 1st. All applicants are required to identify one VDS faculty member with whom they wish to study in their designated field.
The Plan of Study
30 hours of coursework, with specified course expectations that exceed M.Div. level
Demonstrate minimal competency in relevant research language or method
Thesis/Project (35-50 pages) with oral examination by a faculty committee on thesis
Option to be involved in Field Education
Minimum 3 hours, maximum 6 hours, of thesis hours required, included among the 30 hours.
The Th.M. offers a traditional, full-time (1-2 year) plan of study and a community-based plan for members of the Middle Tennessee area looking to take 1-2 courses per semester.
Day-to-day Schedule of Coursework: The schedule depends on which classes are of interest. All MDiv/MTS classes and classes listed as 5000 and above in other grad schools are open to you as well. The ThM does not have a core curriculum; therefore, it is the responsibility of the student, in conversation with their advisor, to create a curriculum and schedule pursuant to their research interests.
Graduate Placement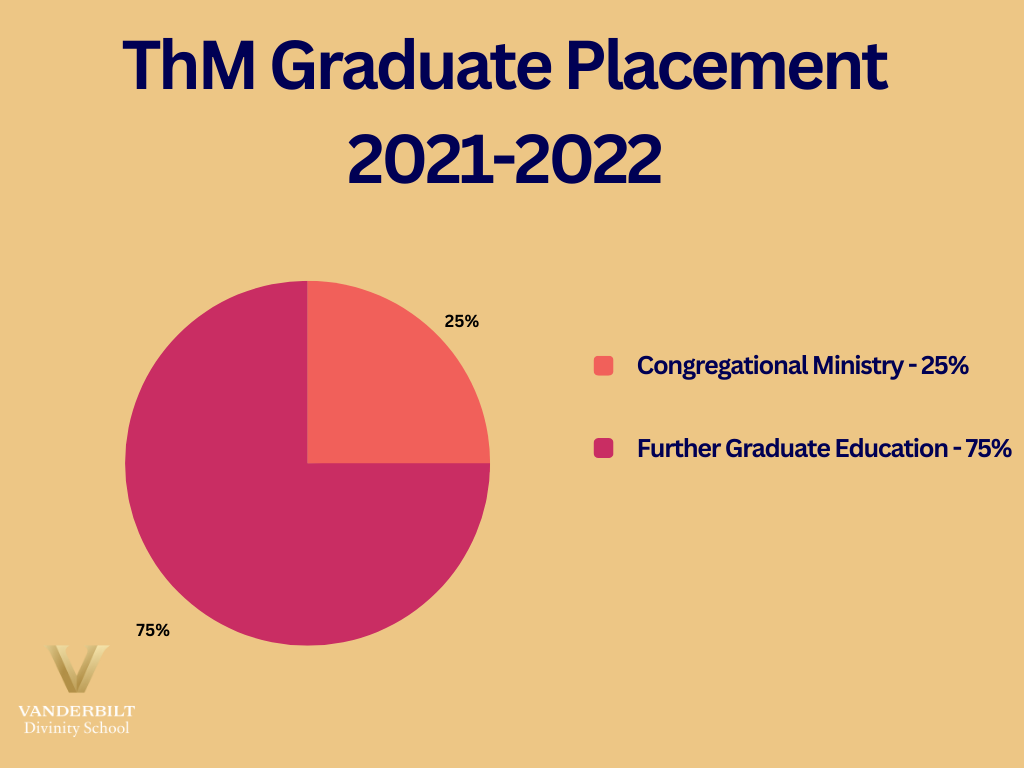 Eligibility
Students must have completed a Master of Divinity or Master of Theological Studies degree from an ATS accredited school, or the educational equivalent from an institution of higher education accredited by a US agency recognized by the Council for Higher Education Accreditation, or approved by a Canadian provincial quality assurance agency. Comparable degrees from institutions outside North America are accepted after review by Vanderbilt's International Curriculum and Credentials Analyst.
Student's academic record must evidence master's level work in a wide range of theological disciplines and the capacity to integrate, critically and constructively, theory and practice.
Student are expected to have achieved a 3.0 or above in their M.Div., M.T.S., or equivalent degree as part of the evidence of aptitude for advanced theological study.
Students are admitted to work with a particular professor, upon affirmation of the professor who agrees to be the thesis advisor, and the VDS admissions committee.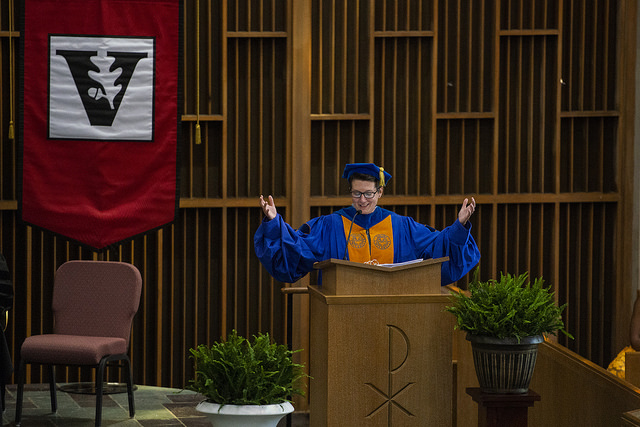 Financial Aid for Th.M. Students
All full-time Th.M. students admitted to Vanderbilt will receive financial aid to support their tuition costs. Domestic students are eligible for a 30% tuition scholarship. International students are eligible for a 40% tuition scholarship. Highly competitive applicants will also be eligible to be considered for a supplemental stipend totaling $5,000 annually. U.S. citizens are also eligible to be considered for federal financial aid, including work-study funding and educational loans.
Wendland-Cook Scholarship in Religion and Justice
The newly-established Wendland-Cook Program in Religion and Justice at Vanderbilt Divinity school will provide three scholarships of $2000 per semester, for up to four semesters for students enrolled in Vanderbilt Divinity School Masters programs (MDiv, MTS, or ThM). Applicants need to demonstrate interest in matters of religion and justice, with a focus on economic and ecological justice broadly conceived. Recipients are expected to enroll in the economic justice concentration at Vanderbilt Divinity School. They are strongly encouraged to take the course "Theology, Economics, and Labor" (DIV 6848) as early as possible during their course of study, as it is the foundational course for the Program.
Scholarship recipients will be required to work up to 10 hours per week for the Wendland-Cook Program in Religion and Justice during each semester in which they receive scholarship support.
Scholarship Application: For fellowship opportunities, please visit the Wendland-Cook website.
For more information about the program please contact Dr. Aaron Stauffer or Dr. Joerg Rieger.