Global Education Resources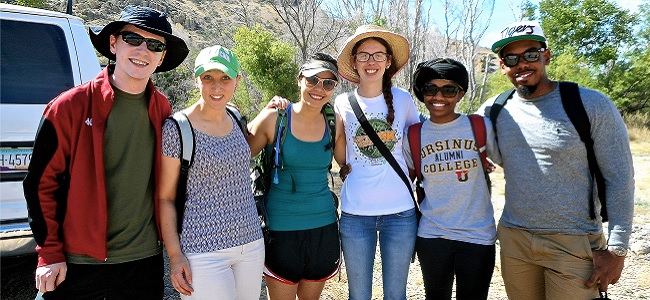 Historically, the Divinity School offers one or more courses that include study abroad. The purpose of these courses is to provide opportunities for immersion educational experiences that ask our students and faculty to have their theological imaginations informed and sometimes transformed by the experiences of those in other places.
Past travel seminars have included:
The Cross-Cultural Seminar, entitled "Traversing our National Wound:  Immigration and the US/Mexico Border" which takes students to the border and across it to study issues of immigration and faith.  
Worship in the Methodist Tradition: Theology and Practicuum in Worship.  In this course, Professor Doug Meeks has taken students on an immersion trip to England to studiy Methodist history, worship and ministries to the poor.
 "Faith, Politics and Globalization," which studied issues of religion and collective violence and included travel and study in South Africa.  Professors Anderson led this course and Reside.
Going forward, we expect to offer courses in Global Christianity and in other relevant topics addressing religion in the global context.
Mission:
When we travel abroad with students, we strive to be thoughtful and critical learners. There are two temptations that we want to be especially mindful to avoid.
The temptation to proselytize, either in terms of religion, politics or economics.
Engaging as cultural consumers - as tourists in search of exotic experiences or interesting lines for our resumes.
Instead, we want to cultivate an attitude of curiosity, and relationships of mutual exchange and solidarity with our partners. However, while the impulses for our global travel seminars is to engage in meaningful and symmetrical relationships with people on the ground, we also recognize the positions of power and privilege that are often inherent in these enounters. We want to be both mindful and critical of these dynamics, even as we embody them on occasion. Indeed, these dynamics often become part of the curriculum and inform our on-going theological and ethical reflection.
Sample Courses:
The Global Education Program attends to issues of globalization across the curriculum. In the Divinity School, we ask: how do the dynamics of globalization inform our theology, ethics, historical analyses or practices of pastoral care? In addition to courses taught at the Divinity School, the Global Education Program has access to the rich resources of Vanderbilt's Graduate Department of Religion, which investigates the broad range of religious traditions around the world. A sampling of courses that investigate globalization include the following: