Establishing Your Timeline
One of the first things you need to know is when to begin your housing search – and the answer is often the sooner the better. If you are already in Nashville, the end of your current lease is likely to determine your timeline. Apartments are usually listed four to eight weeks before they become available. If you are planning a move to Nashville, use these guidelines to determine when to begin your search.
When do you need to be on campus? Obviously, this applies to non-pandemic times. If you will be starting a class over the summer, your arrival date may need to be as early as July. If you plan to move just before the school year starts, then you may not need to arrive until mid-August.
Do you have school-aged children? If you plan to enroll any dependents in the Metro Nashville Public Schools, public school attendance is based on your address. However, families have the option to apply to attend a school in the district outside of their zone. Enrollment in local schools will often mean at least securing housing – if not actually moving – earlier in the summer, so that you have the information when you contact the school(s) you are interested in. New students should register for school as soon as you know your home address in order to identify your neighborhood school. The instructions on how to enroll your child in a Metro Nashville Public School are located here.
Does your visa status require you to register an address immediately on arrival? For most international students, you will want to arrange for housing and a phone number before arriving so that your SEVIS registration will be quick and easy.
Work backwards. Once you have determined when you will arrive in Nashville, allow at least 8 weeks for your apartment search.
Will you be able to visit Nashville? If so, a carefully planned trip to the city four to six weeks before your move should allow you to see a variety of units and speed up the paperwork. If not, you will want to allow some extra time to work through the process remotely.
Don't Panic. Many times, a landlord will only know that an apartment is going to be available four to eight weeks in advance, and they usually won't hold a spot open for you for more than one or two weeks. More units constantly become available, and a landlord can often place you on a waiting list for a later opening if you find a building you like.
---
Before You Search
Before you start, set realistic expectations, and adjust them as you begin to see what is available in your price range. Make a list of your criteria, including budget, size, location, and preferred amenities – this will help guide your search and lead to an informed decision.Be open-minded as you start answering these questions:
How will you get to campus? Do you want to live close enough that you will be able to walk to campus, are you planning to bring a car (with all the extra costs that entails), or will you use public transportation? (Want to know more about getting around Nashville? See "Transportation" section.)
Do you want to live alone, or share space and expenses with a roommate?
What is your monthly budget? In addition to rent, remember to factor in other housing-related costs. Will you need to buy furniture or pay for parking? How much are the monthly utility bills? How much is the application fee and the security deposit or move-in fee? Will you have one or more roommates to share expenses?
What are your most important criteria? Distance to campus? Laundry facilities in the building? Is the neighborhood quiet, or does it have many attractions and amenities? Do you have a pet? Do you have children who will attend school or daycare?
After identifying your priorities, it's time to start your search. Keep in mind that the better the features (age, amenities, proximity to campus, etc.), the higher the rent will be. Be prepared to make some sacrifices to stay within your budget.
---
Get to Know Nashville
Nashville is made up of several neighborhoods, each with their own distinct personality! Understanding the different areas of Nashville is a great first step in your housing search.Nashville Guru features a guide to moving to Nashville and individual neighborhood guides, as well as the handy neighborhood map below.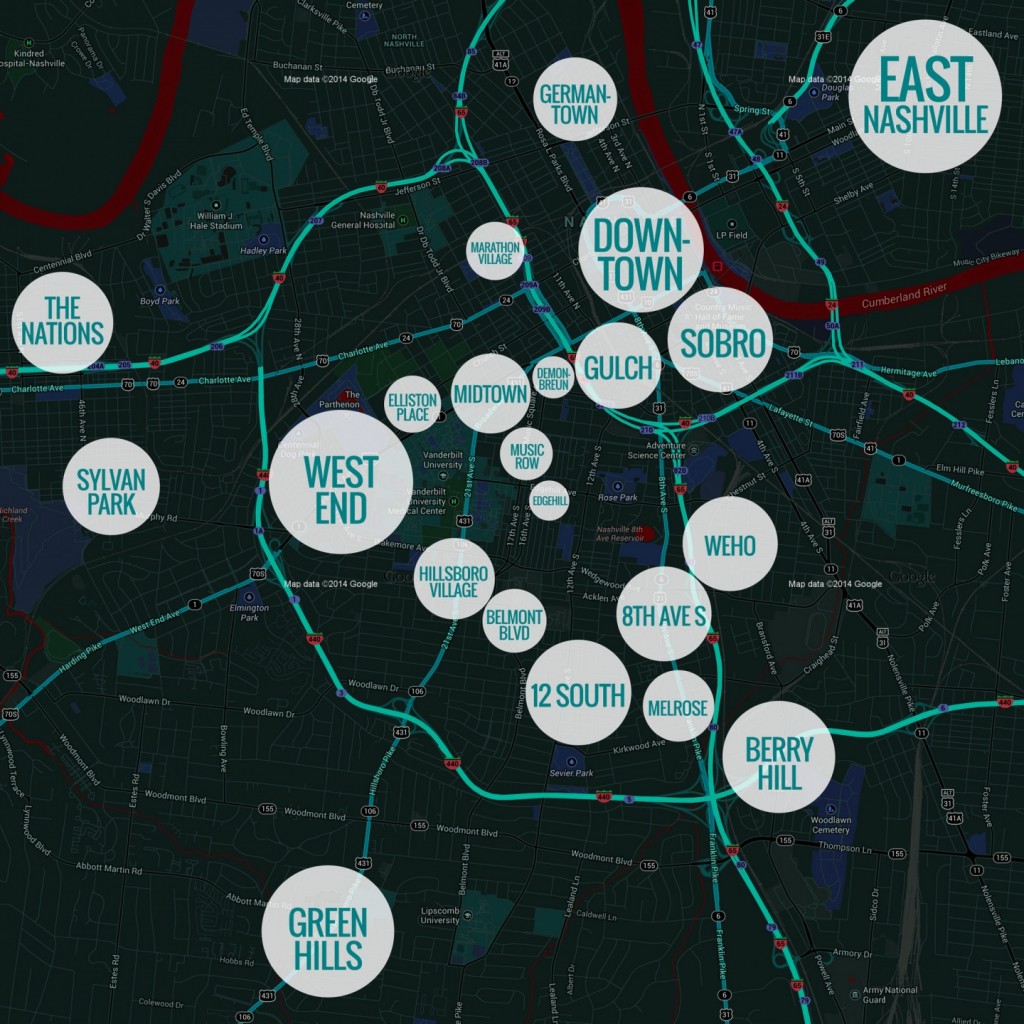 Learn more on Visit Music City, which offers an overview of Nashville's neighborhoods. Their website offers additional information about activities and attractions in Nashville.
---
Transportation
Vanderbilt students use a variety of methods of transportation to get to campus and around town.On campus parking is available through  Vanderbilt Parking Services.  The Divinity School is located in Zone 2. Parking options near campus include a parking permit (good for parking any time throughout the semester), daily parking (by application), hourly lots, and metered street parking. Ride share services Lyft and Uber are widely available.Vanderbilt students can ride  Nashville MTA public transportation  for free with their Commodore Card! There are WeGo bus stops at various spots around campus.Many students choose to walk or bike around town.  The Groove map is a great resource about bike-friendly neighborhoods across the city. Short term bike rentals are available throughout Nashville through  B-Cycle .
---
Where Do VDS Students Live?
The housing options available to VDS students are just as diverse as the students themselves! Students live in houses, apartment complexes, and intentional  communities throughout the Nashville Metropolitan area.After committing to VDS, incoming students will receive access to a Slack channel and the VDS Community Facebook group, where folks share housing listings and opportunities to be roommates, and the larger VU off-campus housing site, which contains a housing database and roommate search feature. See where current students live and learn more about neighborhoods and costs through the VDS Housing Guide assembled by VeryApt. Hear more from two students by downloading this webinar on  Living in Nashville .
---
Finding an Apartment
When moving to a new city, looking for housing can seem daunting, especially if you can't visit in person. Starting your search well in advance of your move – based on the timeline information provided on this site – will make the process much less stressful.Once you decide how much you can afford and what you are looking for, the easiest place to start is with online listings, looking at the cost for what you want in different parts of Nashville. You may want to connect online or by email with current students who can offer advice to help you feel more confident during your apartment search. After committing to VDS, incoming students will receive access to the Back2Grad portal, which contains a housing database and roommate search feature. If you're ready to start looking, check out the housing database.Size, location, and the condition or amenities of a building are the most significant factors in the price of an apartment. You may find a wide range of apartments available which fit your budget in different neighborhoods across the city. After you have an idea of what you can afford in the area you are targeting, narrow down your choices and shorten your list of possible apartments. Then begin contacting properties that seem like a good fit to learn more, or if possible to make appointments for tours.
---
Tips for Your Search
Don't feel like you need to rush through this process and accept the first place you find. Keep in mind that new listings come up regularly, and landlords may only know they will have a vacancy four to eight weeks in advance. Here are a few tips to help you avoid common mistakes.Renters have rights. Learn more at this link . You may find it helpful to review these regulations before starting your search, and you should definitely review them before signing a lease. Avoid getting scammed. There are bad actors trying to list fraudulently, often by posting properties that aren't theirs on Craigslist. Check out this article with tips to avoid rental scams. If you aren't able to visit in-person, you may always ask for a virtual tour, or send someone to take a look on your behalf.Condition of the unit and the building. In person or online, check the general condition in the apartment, and also around the building (Google Maps Streetview is helpful if you can't do this in person). It's OK to ask the landlord to let you ask the current tenant questions, although they probably will not put you directly in touch with them for privacy reasons. If anything seems to be broken or not functioning, you should ask that the maintenance be completed before your actual move-in date and that the agreement to do these repairs be included in your lease agreement. You will also have an opportunity to list these items upon move-in.Ask about utilities. Don't forget to ask the landlord about which utilities are included in the rent and which are not. Most listings will describe this up front, but it's fine to double check.Things to check for if you or a friend can visit an apartment:
Turn on all the faucets to check the water pressure and how quickly it gets hot
Turn on all the lights; not every room in an apartment will have ceiling lighting
Check the locks on the doors and windows to make sure they work
Check for holes or water damage on the floor, walls, and ceilings
If provided, check to make sure the air conditioning and heating work properly (Note: most older buildings do not have central air conditioning, and heat is often provided via radiators which you will not be able to turn on or off at will)
Take note of the number of electrical outlets and where they are located
Ask to see the laundry room or any other amenities the building offers (storage, bike room, etc.)
If you like to walk in the area where you live, consider taking a walk at different times of the day.
Take notes on these items based on either provided photos or your visit, and use these notes to compare units. You can also use this apartment comparison checklist.
---
Questions to Ask
Asking questions is just as critical as seeing apartments and neighborhoods. Below you will find some questions to ask when evaluating properties:The Apartment and Lease
How long is the lease period? Most are one year, but feel free to ask about other options.
How much is the rent, and what was the rent of the last tenant?
How often does the rent go up, and by how much?
Does the landlord ask for a security deposit or a move-in fee? In what circumstances can you get this deposit back?
What would be the results of breaking the lease early?
How old is the apartment?
Is there central heat and/or air conditioning, or is the unit heated by radiators?
What is the pet policy? Note that buildings may allow only certain types of pets, and may charge a fee if you have one.
What is the apartment maintenance process? How are emergency repairs taken care of? Is the building supervisor or engineer located on-site?
Does the landlord have any other special policies you should be aware of?
Utilities
Which utilities, if any, are included in the rent? (Water is usually included; heat is often but not always included; additional amenities like electricity, cooking gas, internet, or cable television are rarely included.)
Will the utilities be handled by the manager or landlord, or do you need to re-apply? Most renters will need to establish their own electricity accounts, and often natural gas as well; you can also choose to sign up for internet or cable services.
Parking
Does the building have parking available? How much does it cost? Is there a waiting list?
Is any visitor parking available?
Location
Where are the closest grocery stores, pharmacies, gas stations, laundromats and/or dry cleaners, and train lines or bus routes?
Furniture & Appliances
Is the unit furnished? If so, what is provided?
What appliances are included? Almost all units include the stove and refrigerator, but dishwashers and microwave ovens are less common.
What condition are the appliances and furniture in?
---
Intentional Communities and Reduced Cost Housing
The Disciples Divinity House at Vanderbilt is a partner with Vanderbilt Divinity School and the Christian Church (Disciples of Christ). It is a scholarship foundation and a home for Disciples at the Divinity School at Vanderbilt. Open to all students by application; priority given to Disciples of Christ students. 
In a Friendship House (FH), graduate students live with persons with intellectual and/or developmental disabilities (Friends) in affordable housing. Open to all students by application. Contact Jordan Collins, Associate Director of Our Place Nashville. Check out the housing brochure here!
---
Sports & Recrations
Vanderbilt Commodores
Nashville Predators – NHL
Nashville Soccer Club – MLS
Nashville Sounds – Triple A baseball
Tennessee Titans – NFL
Metro Parks locations
Tennessee State Parks
Nashville Convention and Visitors Bureau
---
Attractions
Nashville Visitors Bureau
Frist Center for the Visual Arts
Schermerhorn Symphony Center
Country Music Hall of FameRyman Auditorium
Nashville's Main Public Library
Cheekwood Botanical Garden and Museum of Art
The Parthenon
The Belcourt
---
Dinning
Nashville is a fantastic food city.Nashville Originals is a dedicated band of local restaurateurs, dedicated to the challenge of sustaining the independent restaurant as a feature and a fixture of local culture and community.The Nashville Convention and Visitors Bureau maintains a database of Nashville-area restaurants. Searches of the database can be done based on area of town, cuisine, and price range.
---
Media
Local print media outlets
The Vanderbilt Hustler
The Tennessean (daily newspaper)
The Nashville Scene (weekly newspaper)Local broadcast media outlets
WPLN (Nashville Public Radio)
WRVU (Vanderbilt student-operated radio station)
WNPT (Nashville Public Television)
WFSK (Fisk University radio station)