by Sean Everton, MDiv'90, and Julian Wright, MDiv'92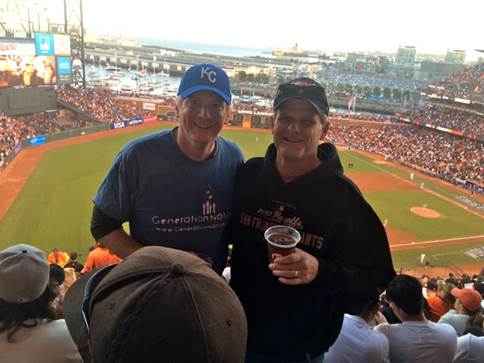 We, Sean Everton, MDiv'90, and Julian Wright, MDiv'92, did not take the most conventional routes to Vanderbilt Divinity School. Everton played minor league baseball and worked as a CPA before enrolling at Vanderbilt. Wright came to VDS through the joint Law and Divinity program. Since rooming together in 1988-89, and each being graduated as the Founder's Medalist for our respective classes, neither of us has been a typical VDS alum– if such a creature exists. Everton is a professor at the Naval Postgraduate School in Monterrey, California where he teaches courses in terrorism and counterinsurgency. Wright practices law with Robinson Bradshaw & Hinson in Charlotte, North Carolina. Our faiths and friendship have endured, and recently we reunited to share another passion – baseball.
As you can tell from the photo of Game 5 of the World Series, Everton roots for the San Francisco Giants. He grew up in Northern California and now lives in San Jose. Wright, a North Carolina native, has been a Kansas City Royals fan since his first season of Little League baseball in 1972 when he adopted Royals center fielder Amos Otis as his favorite player. When it became clear that Wright's Royals would face Everton's Giants in the Fall Classic, Wright asked Everton if he would be interested in going to a game in San Francisco. Easy question. StubHub provided tickets, Wright's frequent flyer miles covered air transportation, and Sean and his wife, Deanne, MDiv'90, provided local transport, lodging, and splendid hospitality.
Both of us will long savor the experience. "It was a blast to see my favorite team in a World Series game anywhere. It was especially fun to be in a beautiful ballpark in a beautiful city sharing the experience with a really great guy," said Wright. Everton commented, "The evening was unbelievable. Glad that Julian and I could share it together."
Both of us fondly remember our VDS days. In addition to practicing employment law and handling business litigation, Wright serves as an elder at Covenant Presbyterian Church and teaches his fair share of Sunday School. He also chairs the board for Camp Grier, a Presbyterian camping center in Old Fort, North Carolina. "I could do all those things without a Divinity degree, but I think I do all of them better because of my experiences at Vanderbilt," says Wright.
Everton and his wife co-pastored an American Baptist church in Bend, Oregon, for six years after graduation. He eventually returned to the Bay Area to attend Stanford to earn a doctorate in sociology, but he hasn't left what he learned at Vanderbilt behind. He currently serves as the chair of adult education at First Congregational Church of San Jose, and he served as the church's moderator before that; Deanne is the current moderator. He also has published several articles on religion, including one on the Jesus Seminar, which will appear in 2015.
We vow not to let another 20-plus years pass before getting together again. Should the Royals and the Giants play each other in next year's World Series, we may split the travel difference and meet in Kansas City for a game. Wright's wife, Amy, commented that it says a lot about the peace, love, and understanding we learned at the Divinity School that we could so enjoy each other's company while each hoping the other's favorite team would lose.
The beer probably helped, too. For the record, the Giants won Game 5 by a score of 5-0 on their way to winning a thrilling World Series in 7 games.