Our monthly Alumni/ae Tuesday Guest Post series on the VDS Voices blog highlights posts written by VDS and GDR alumni/ae. Hear firsthand about their important work in the community, collaborations with other alumni/ae and faculty, and much more.
Be sure to also check out the Divinity School Instagram feed every Tuesday for our Alumni/ae Instagram Takeover Day. Each week, we will showcase a different alumnus/a as they document their day in photos. Follow @VUDivinity on Instagram today!
If would like to contribute a post to the Alumni/ae Tuesday Guest Post series, or participate in our Alumni/ae Instagram Takeover Day, please email Addie Sullivan (addie.sullivan@vanderbilt.edu)  in the Vanderbilt Divinity School Alumni/ae office.
On Becoming A Missionary
I recently asked a group of young Christians what images or words come to mind when they hear the word "missionary." The answers varied: starving black children in Africa, Bibles smuggled into China, Spanish Conquistadors, the Jesus Film, and martyrdom, to name a few. I sat and wondered how these answers would vary based on context. Would the images change if I asked someone in South Sudan, Uganda, or Hawaii? Would the image point less toward adventure, sainthood, or foreignness and more toward oppression, syncretism, and colonialism? When the term "missionary" is used, do we think of Belgium missionaries in Rwanda or missionaries in the line Bartolome de las Casas?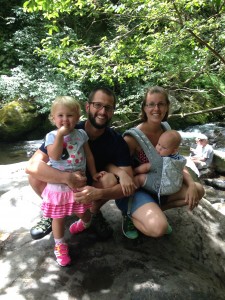 I am a missionary. I graduated from Vanderbilt Divinity School in 2011 and now call Kailua-Kona, Hawaii, home. And I've struggled with accepting this vocational call. The bleak history and close connection between western colonialism and missionary endeavors taints my reality. I fear that another's presupposition of what missionary means to them will gloss over the life-giving work of discerning God's presence in context. I fear being misunderstood by both progressives and conservatives, yet I embrace my role as a missionary-pastor with Kona Coast Nazarene.
Augustine once wrote that "the one who begins to love begins to leave."  Love propels a giving over of the self, an abandonment that only the Spirit prompts and turns one toward God and our neighbors. In this sense, love involves the motion of 'leaving' marked throughout scriptures by the liberating act of God in the Exodus and practiced in baptism. This sending love does not narrate a story of the heart but is lived in the concrete visible reality of neighbor and community. In this way, a missionary always mediates the tension between belonging and foreignness for the sake of life and health of one's place.
Over the past year, I have been learning to ask this one question, a question that every good missionary asks: What does Good News look like for this people and for this community? It's a question that requires attentiveness to context, to inter-personal, social, economic, political, and spiritual relationships—skills, that frankly, I would not have learned without studying at Vanderbilt Divinity School—but it also means that the Good News of a dead and risen Jesus Christ might take on a different expression in Hawaii than it would in Tennessee, China, or Germany. A missionary develops the faith and skill set necessary to contextualize and discern Good News for one's community and those that call that place home
So as a missionary, I have become an extension of the local church in our neighborhood. I am developing a keen awareness of our community's passion, gifts, and hopes as well as our community's struggles, pains, and hurts.  We believe the church is a community for healing, reconciliation, and redemption and a life-giving body equipped to transform neighbors and neighborhoods through grace and justice in the pattern of Jesus Christ. And this looks a number of different ways: reclaiming unused land for farm production, participation in community open-mic nights, creating and connecting young adults to needed apprenticeships and jobs, joining the local social service networking group, emphasizing discipleship and individual transformation, training local leaders for ministry, and planting multiple ethnic church plants. So our local church is calling missionaries to contextualize the Gospel on the Big Island of Hawaii.
Eric Paul, M.Div '11
Missionary-Pastor, Kona Coast Nazarene