Our monthly Alumni/ae Tuesday Guest Post series on the VDS Voices blog highlights posts written by VDS and GDR alumni/ae. Hear firsthand about their important work in the community, collaborations with other alumni/ae and faculty, and much more.
Be sure to also check out the Divinity School Instagram feed every Tuesday for our Alumni/ae Instagram Takeover Day. Each week, we will showcase a different alumnus/a as they document their day in photos. Follow @VUDivinity on Instagram today!
If would like to contribute a post to the Alumni/ae Tuesday Guest Post series, or participate in our Alumni/ae Instagram Takeover Day, please email Addie Sullivan (addie.sullivan@vanderbilt.edu)  in the Vanderbilt Divinity School Alumni/ae office.
Charleston, Racism, and the Virtue of Imperfection
Sarah Pinson, MDiv'14
Charleston: the home of horse-drawn carriages, historic cobblestone streets, fantastic food, and beautiful beaches.
Charleston: the home of widespread if genteel racism, rampant income inequality, and, now infamously, nine black Christians killed by a white supremacist gunman.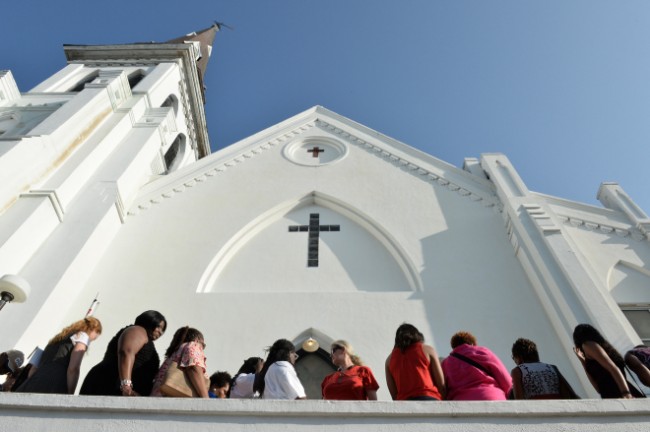 It's all a matter of perspective. Mine has changed.
Since moving to Charleston almost seven years ago, I've idealized this city. Everywhere I went (including Nashville), I sang Charleston's praises to anyone who would or wouldn't listen. But Charleston looks different to me now. It's not that I still don't love the city because I do. There is so much beauty here and so much potential for good. But over time I've begun to see Charleston more clearly, more for what this place is: a lovely and friendly city with serious social problems—problems of race, poverty, and division.
I have a history of developing what feel like deep and powerful attachments to people when I first meet them. No one can live up to the expectations I create during these encounters. It's easy to idealize people when they're living inside your head. It's also easy to idealize any place if perfection is what you want to see. I romanticized Charleston for a long time and told myself and others the city was practically perfect.
This kind of half-seeing, this warped and self-centered perspective, is sinful. Like any good VDS alum, I don't use the word "sin" lightly; I prefer less personal terms like "injustice" or "problematic structure." People seem to feel less guilty around those words than they do when they hear "sin." In this case, though, I'm willing to make an exception. When we don't want to see, when we pretend the world looks how we want it to look, we are lying to ourselves and to those around us. That is sin, plain and simple.
In the wake of the murders at Mother Emanuel, many of us have narrowed our focus to see only the positive: the forgiving nature of the victims' families, thousands of people holding hands across the Cooper River Bridge, millions of dollars donated to support church members in their time of need. It is wonderful and important to celebrate these victories, and they are victories; however, we cannot do so at the expense of the issues we still need to tackle as a city and as members of the human community. These issues are manifold. Many of the people that cook and serve our world-class cuisine can't afford to feed their families at the current minimum wage, a paltry $7.25 an hour. Low-income people in Charleston (who are largely black) are being pushed out of their homes and neighborhoods as the cost of living rises and housing prices skyrocket. Since the shooting, at last count, seven black churches in five southern states have burned—and these fires cannot all be accidental.
If we ignore these realities, we cannot fully love one another because we will not fully see one another. Love requires honesty. Love requires clear-eyed commitment to making life better for one another. Love requires that we recognize the flaws and depths and hard edges of the people and places around us and still hold fast to them.
"And now that you don't have to be perfect, you can be good," John Steinbeck wrote. No matter how pristine our façade is, Charleston is not perfect; the South is not perfect; the world is not perfect. We can no longer pretend that it is. When we see that, we can begin the work of making it good.