by Lyndsey Godwin, Assistant Director, Carpenter Program Religion, Gender, and Sexuality
The Carpenter Program in Religion, Gender, and Sexuality at Vanderbilt Divinity School expresses its support of and admiration for Dr. Forrest Harris, our colleague and President of American Baptist College. Dr. Harris's decision to invite Bishop Yvette Flunder, Dr. Allen Boesak, and Pastor Delman Coates to speak and preach at this year's Garrnett-Nabrit Lecture Series at American Baptist College has provoked controversy.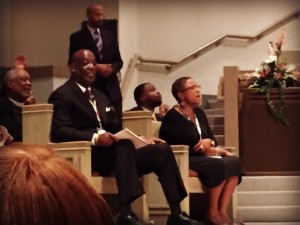 American Baptist College has a history of training leaders and ministers to seek justice and engage difficult questions critically. This tradition continued with an invitation of Bishop Flunder who is both an expert in the impact of HIV in faith communities, particularly the Black Church, and as a visionary leader of faith and justice.
Understanding that human experiences of faith are complex, the Carpenter Program fosters the deepening of academic, ministerial, and communal understandings of the roles of religion, gender, and sexuality in our lives. Sexuality and gender are inextricably linked to what it means to be human, and how our cultures are structured and maintained. While many religious conflicts are debated with regularity, those over gender and sexuality are often avoided.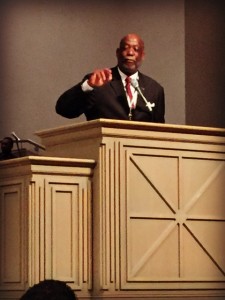 We stand with American Baptist College and Dr. Harris in working to develop leaders of faith who thoughtfully engage controversial issues and foster deeper discussion.  This labor requires thoughtful engagement with controversial issues. American Baptist College, Dr. Harris, and those who are part of the Garrnett-Nabrit Lecture series continue to lead us in this ongoing endeavor—for that prophetic leadership, we are grateful.
Last week, the Carpenter Program, and the Divinity School, continued its In-Forming Communities of Healing programming and partnership with Dr. Marcia Mount Shoop.  In the fall we connected In-Forming Healing Communities with the Living Memorial and Teach-In on racialized violence, and we are doing the same now, by partnering with S.H.A.D.E.S in support of Womanist Week, and combining with S.H.A.D.E.S and Black Seminarians to shift our programming to support ABC, Dr. Harris (and his work both at ABD and VDS, as the Director of the Kelly Miller Smith Institute), Bishop Flunder, and all those involved. Dr. Mount Shoop explains:
The criticism that Dr. Harris is receiving surfaces many of the dynamics around power, bodies, and the intersections of race, gender, sexuality, and identity that are the heart of the work of the In-Forming Communities of Healing Initiative…[This] has created an opportunity for us to improvise and respond to what is happening right now in terms of power and bodies in our midst.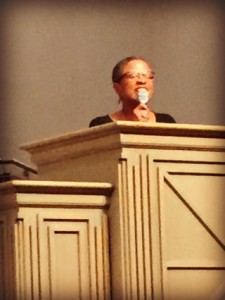 Last Tuesday members of the VDS community gathered for food and conversation to explore the ways that power is used to harm, condemn, and divide. We then went to American Baptist College to worship alongside our colleagues and to hear and support Bishop Flunder.
You can learn more about American Baptist College, learn more about the Garrnet-Nabrit lectures and this recent controversy, and read other letters of support here: https://www.abcnash.edu/