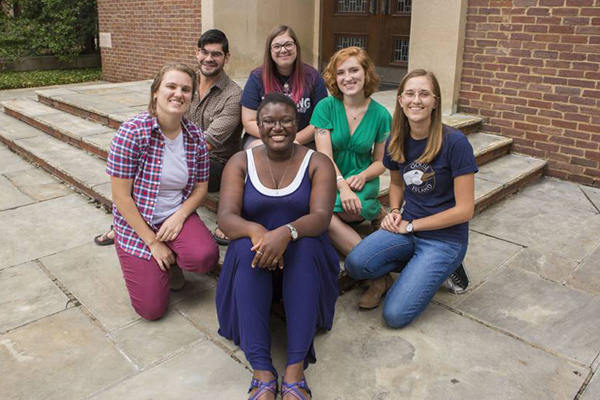 What is community? I am standing here as the representative of our communal body to invite you all into our shared adventure, and as I attempted to write this speech I kept asking myself multiple questions. What did I need to hear as a first year? How do I imagine and reimagine this community? And how do I even propose that vision? But out of the many meditations on what an invitation to community looked like, I was reminded of the fact that questions are what brought me to the divinity school in the first place. Questions called me out of what I thought I'd be doing and brought me to the admissions office. And when I finally arrived into the building as a first-year seeker, what I continued to find in these walls were more questions. And in this new 2018-19 year we have not stopped asking: Questioning how we will be transformed and informed by new beginnings, new architecture, new curriculums, and more changes still on the horizon.
This is a questioning community. We bring our experiences, our doubts, and our certainties and put them through the wringer with the hope that we will find not always answers, but better questions. Positions that bring us closer and closer to the immeasurable and the unanswerable.
So, to this new community, what I have for you as a way of invitation is questions: What do you seek to find here? What do you hope to build? Who do you hope to be? Do you want to be a first year rep?
I hope that in these first few days and next few years you open yourself up to the vulnerability and the boldness that questioning requires, and invite you into a space where we know the work of questioning does not end just in two or three year. We are searchers, theologians, workers, builders, activists, and fighters now pulled together and tasked with creating a community together, and my ask to you all is that you embrace this work of questioning.
So then again, what is this new community?
That is a question for you all.
Welcome.
Julia McCorvey
she/her
President: 2018-19 Vanderbilt Divinity School Student Government Association
M.Div, 2020