The 26th National Conference on LGBT Equality: Creating Change made its home in downtown Denver, Colorado, February 4-8 2015.
We had nearly 4,000 people from all over the country attend our five-day program that featured over 390 workshops, training sessions, meetings and events, and four unbelieveably spectacular plenary sessions.
Vanderbilt Divinity students Sara Green, Robles, Sherry Brewer, and Sarah Connette attended, along with The Carpenter Program's Carlin Rushing (Program Coordinating Fellow) and Lyndsey Godwin (Assistant Director). This year the Divinity School also partnered with the Center for Gay and Lesbian Studies at the Pacific School of Religion to co-host a caucus called "Queering Theological Studies;" and our Assistant Dean of Admissions, Vocation, and Stewardship coordinated with over a dozen schools from across the country to co-host the first ever Theological Schools reception at Creating Change. Vandy's attendees presented workshops, engaged in discussions, and  met with activists, educators, and faith leaders from across the nation, particularly in Creating Change's "Practice Spirit, Do Justice" track.  This track of workshops is sponsored by the E. Rhodes and Leona B. Carpenter Foundation, the same foundation that supports our Carpenter Program and through which our attendance was made possible.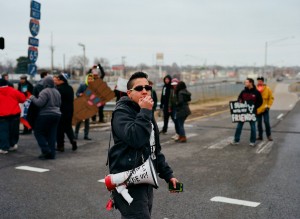 Since the beginning of my community organizing as a trans youth in Chicago, I had heard about Creating Change. Many of my friends from different collectives and groups attended the national LGBTQI conference last year. I have wanted to go for a few years now, and I am grateful for the opportunity that I was given this year by Vanderbilt Divinity School. I was excited to attend to meet other black and brown organizers, youth, and trans folks. I also was praying for the possibility of meeting another transqueer Latinx they, them, theirs person because these folks were always missing for me in communities. I have for a long time felt alone in my multifaceted intersectional lived experiences and identities. I was thirsting for authentic community. Before leaving for Denver for the conference, I knew that I wanted to learn about how young trans non-binary people were organizing for racial, trans, and economic justice while also authentically building community, relationships, and doing justice work. I was particularly interested in gaining a better understanding of how queer and trans black and brown organizers in all social movements, grassroots organizing, and movement building are grounding themselves and their justice work in places of faith. As people who often experience many forms of violence such as police brutality and sexual violence, racism, classism, ableism, ageism, etc., what is it that keeps us going? Where do we pull from to continue our lives and the work?
When I arrived I was overwhelmed with the fierceness, strength, and beauty of the folks at the conference. During the conference I attended a range of sessions including a workshop by our very own recent VDS alum, Alba Onofrio on sexual liberation at the intersections of race, class, age, and (dis)ability. I was surprised that in that space I engaged in a deep spiritual and healing work of self. I was also fiercely held in community when I was feeling vulnerable. While some of those experiences caught me off guard at first, I learned about what I need when I am in need of support and to practice allowing myself to ask for those things.
Another fierce session I attended was on building a gender nonbinary transgender movement. The workshop began a dialogue around the celebration of non-binary identities within the trans movement, strategizing what a non-binary agenda looks like, and how these can be incorporated in to the larger trans movement and trans community organizing. It was life giving to see a room overflow in max capacity with over 80 people who identified with they, them, theirs gender pronouns within distinct gender non-binary, genderqueer, and gender nonconforming identities as well as distinct racial and ethnic identities. This intersection of folks really made the session powerful. The workshop brought me to tears because it was all organized by young people, and as a queer and trans youth of color organizer, this brought me immense happiness. I also was affected by the space we created and the authentic sense of community that we all had by the end of the workshop. This session brought me to tears also because there I met a fellow transgender Latinx they, them, theirs person. They had stuck out to me from across the room during the workshop. Shortly after we had finished we started talking and realizing how our identities and experiences in our families and communities overlapped. It was like finding a long lost sibling. We were both shocked and dropped what was in our hands to hug excitedly, as we screamed with joy, realizing that we had both finally found the person for whom we had been looking—someone to connect with intimately. Our souls became alive as we got in touch with our pains of loneliness but were now being overwhelmingly transformed with feelings of community.
Since attending Creating Change I have noticed how much more powerful, meaningful, and valuable I feel. I have used this bit of light to continue providing some light to the paths of those in the many communities to which I belong. And sometimes the light is a light that provides comfort in the darkness, and sometimes the light is generously educating folks in this community about my identities as well as the intersections of trans and racial justice. I want to see this VDS community to continue prophetically expanding and radicalizing our sense of community and the work we are doing because there is a need for more. May we be goddesses, justice warriors, fierce organizers, and push to be active agents of change as a Schola Prophetarum (School of the Prophets) everywhere we go. And I challenge the VDS community to be involved, to ask questions, but also to listen beyond the ears of inclusion—to listen in solidarity and take action with those in the struggles, to those doing the justice work already, and to our ancestors who have come before us fighting for liberation.
Robles, MDiv2
Gender Pronouns: they, them, theirs
Carpenter Scholar