The 26th National Conference on LGBT Equality: Creating Change made its home in downtown Denver, Colorado, February 4-8 2015.
We had nearly 4,000 people from all over the country attend our five-day program that featured over 390 workshops, training sessions, meetings and events, and four unbelievably
spectacular plenary sessions.
Vanderbilt Divinity students Sara Green, Robles, Sherry Brewer, and Sarah Connette attended, along with The Carpenter Program's Carlin Rushing (Program Coordinating Fellow) and Lyndsey Godwin (Assistant Director). This year the Divinity School also partnered with the Center for Gay and Lesbian Studies at the Pacific School of Religion to co-host a caucus called "Queering Theological Studies;" and our Assistant Dean of Admissions, Vocation, and Stewardship coordinated with over a dozen schools from across the country to co-host the first ever Theological Schools reception at Creating Change. Vandy's attendees presented workshops, engaged in discussions, and  met with activists, educators, and faith leaders from across the nation, particularly in Creating Change's "Practice Spirit, Do Justice" track.  This track of workshops is sponsored by the E. Rhodes and Leona B. Carpenter Foundation, the same foundation that supports our Carpenter Program and through which our attendance was made possible. This weeks post was written by Sarah Connette, MDiv3.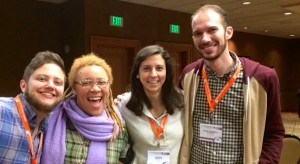 On the first day of the 2015 Creating Change Conference, I attended the "Practice Spirit, Do Justice Day-Long Institute: Radical Connectedness, Liberating Particularity." This institute brought together interfaith perspectives to re-map theological terrain and engage in conversations to see how the particulars of our contexts might strengthen the essentials that we share. Often we hear about the roadblocks and challenges that religion presents in the struggle for LGBT equality, but I was encouraged by the asset-mapping approach of this institute. We explored how our various faith traditions actually provide rituals, resources, stories, liturgies, and theologies that promote radical inclusion and welcome, along with anti-oppressive spiritual care.
Some of the other workshops I attended included: The 90 Minute Master's in Social Change, Engaging the Globalized U.S. Culture Wars, Global LGBT Activism and Solidarity, NAACP and LGBT Engagement in North Carolina, Effective Leadership and Communication Styles, Fostering Resilience in Homeless Youth, and A Queer Response to Climate Change. The intersectional nature of exploring LGBT issues across political, economic, and social contexts helped develop my understanding of the interdisciplinary nature of fostering systemic change.
Through these engaging workshops and conversations at the conference, I am still left thinking about the intersectional work to be done, especially in response to the increasing number of "religious freedom" acts and bills. With the wave of these legislative measures rising throughout the nation to counter anti-discrimination laws, the momentum of LGBT equality faces a critical roadblock. These exemptions claim an affirmative right to discriminate based on certain religious beliefs. Especially for religious leaders in the South, we are faced with a greater challenge of mobilizing resources, networks, and voices to challenge discriminatory laws from a faith-based perspective. As I learned in the NAACP and LGBT Engagement in North Carolina workshop, just 3% of all LGBT funding goes to the South, while 31% of the LGBT population lives in the South. These numbers expose a significant challenge and also a great need. How might our intersectional alliances and networks be mobilized across issues in order to pursue comprehensive, creative, resilient and enduring social change? How might they be transformative instead of merely transactional? Perhaps we could start with a simple exercise from one of the workshops, in which we all turned to the folks next to us and told them, "I see you, neighbor. I hear you, neighbor. I respect you, neighbor."