The 26th National Conference on LGBT Equality: Creating Change made its home in downtown Denver, Colorado, February 4-8 2015.
We had nearly 4,000 people from all over the country attend our five-day program that featured over 390 workshops, training sessions, meetings and events, and four unbelieveably spectacular plenary sessions.
Vanderbilt Divinity students Sara Green, Robles, Sherry Brewer, and Sarah Connette attended, along with The Carpenter Program's Carlin Rushing (Program Coordinating Fellow) and Lyndsey Godwin (Assistant Director). This year the Divinity School also partnered with the Center for Gay and Lesbian Studies at the Pacific School of Religion to co-host a caucus called "Queering Theological Studies;" and our Assistant Dean of Admissions, Vocation, and Stewardship coordinated with over a dozen schools from across the country to co-host the first ever Theological Schools reception at Creating Change. Vandy's attendees presented workshops, engaged in discussions, and  met with activists, educators, and faith leaders from across the nation, particularly in Creating Change's "Practice Spirit, Do Justice" track.  This track of workshops is sponsored by the E. Rhodes and Leona B. Carpenter Foundation, the same foundation that supports our Carpenter Program and through which our attendance was made possible.
Responding to international LGBTQ politics:
"Stop your mad men from coming to drive my countrymen insane."
by Sherry Brewer, MDiv3
——-
"The past is never dead. It's not even past." – William Faulkner
Though William Faulkner's sage observation was written over 60 years ago, his words pierce to the core of Western Christianity's relationship to the recent anti-gay legislation in some African countries. Removed from us by an ocean, thousands of miles, and cultures that seem to be on different paths, it is often all-too-easy for many in the United States to shake our heads at the virulently anti-gay sentiment in countries like Uganda and Zimbabwe.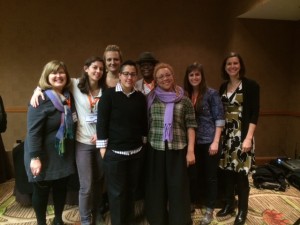 In one of the sessions I attended at Creating Change, however, activists from Uganda as well as the United States showed that the culture war underway in many African countries against lesbian, gay, bisexual, transgender, and queer people is, to a significant degree, of our own making–both historically and currently. Just as Faulkner says, the past is not even past; indeed, it lives on into the present.
A popular narrative, fueled by religious and political leaders like Zimbabwe's President Robert Mugabe, claims that homosexuality is foreign to African culture; the "gay agenda" is an unwanted Western import, so goes the story. The past, however, tells another story entirely, according to one of the Creating Change speakers, an activist from Uganda.[1]
Prior to the arrival of the British in the 19th century, homosexuality was part of Ugandan society, particularly among royal families. In an effort to secure submission of the local culture to British rule, however, the British colonizers decried same-sex relationships as evidence that the Ugandan royal families were evil and unfit to rule because they lived in contradiction to God's word.  They cited the Bible, as well as a 1553 British law that meted out death by hanging as punishment for same-sex relationships. Over time and through colonization, these biases became firmly entrenched.
The past, however, remains with us in more ways than one; the same Western hate-mongering in Africa continues today in the form of people like anti-gay pastor Scott Lively. As leader of his own organization, Abiding Truth Ministries, Lively has travelled the world, inciting existing prejudices against lesbian, gay, bisexual, and transgender people in places like Russia, Ukraine, and Uganda.
In a 2009 seminar in Uganda, Lively urged Ugandans to reclaim religion because gay people, he claimed, were coming to their country to recruit their children. In the wake of his visit, violence against LGBTQ people escalated.[2]
In a nearly-unprecedented turn of events, Lively now will stand trial in United States federal court for crimes against humanity arising from his actions in Uganda.  Brought by Ugandan human rights organizations, the plaintiffs seek damages from Lively for "contributing to the persecution of Ugandan homosexuals and seeking to deprive LGBT members of the Ugandan population of their basic human rights."[3] (For more information, check out the documentary God Loves Uganda on Netflix, which chronicles the actions of Lively and other American evangelicals in the persecutions of gay Africans.)
In the wake of international religious politics, how can we respond?  One of the Ugandan speakers at Creating Change put it bluntly in his plea:  "Stop your mad men from coming to drive my countrymen insane." We can support organizations like Political Research Associates and the Southern Poverty Law Center, who keep a close eye on hate-mongering groups and increase resistance to their work by first making us aware of what they are doing.  Because of increased publicity, one anti-gay group seeking space for a conference, has recently been turned down by five different venues.
For me, the Creating Change workshop pointed anew to the wisdom of Faulkner's words. The past is indeed not even past. To be in solidarity with our lesbian, gay, bisexual, transgender and queer brothers and sisters around the world, we must take responsibility to know the past… in order to act in the present.
---
[1] The speaker, a gay man living and working in Uganda, requested anonymity due to fear for his safety.
[2] Sarah S. Kilborne, "Hate on Trial: What The Case Against Scott Lively Really Means," Slate, Dec. 16, 2014.