The National Conference for LGBT Equality: Creating Change is an annual event. It's truly a one-of-a-king organizing and skills-building event for the LGBTQ community and allies. The 28th annual Creating Change conference was held in Chicago, Illinois, this year. Vanderbilt Divinity School student delegates Shakiya Canty, Levi Dillard, Sarah Jordan, and Marty B. Tracy attended along with 
The Carpenter Program's Carlin Rushing (Program Coordinating Fellow) and Lyndsey Godwin (Assistant Director).
by Shakiya Canty, MDiv'3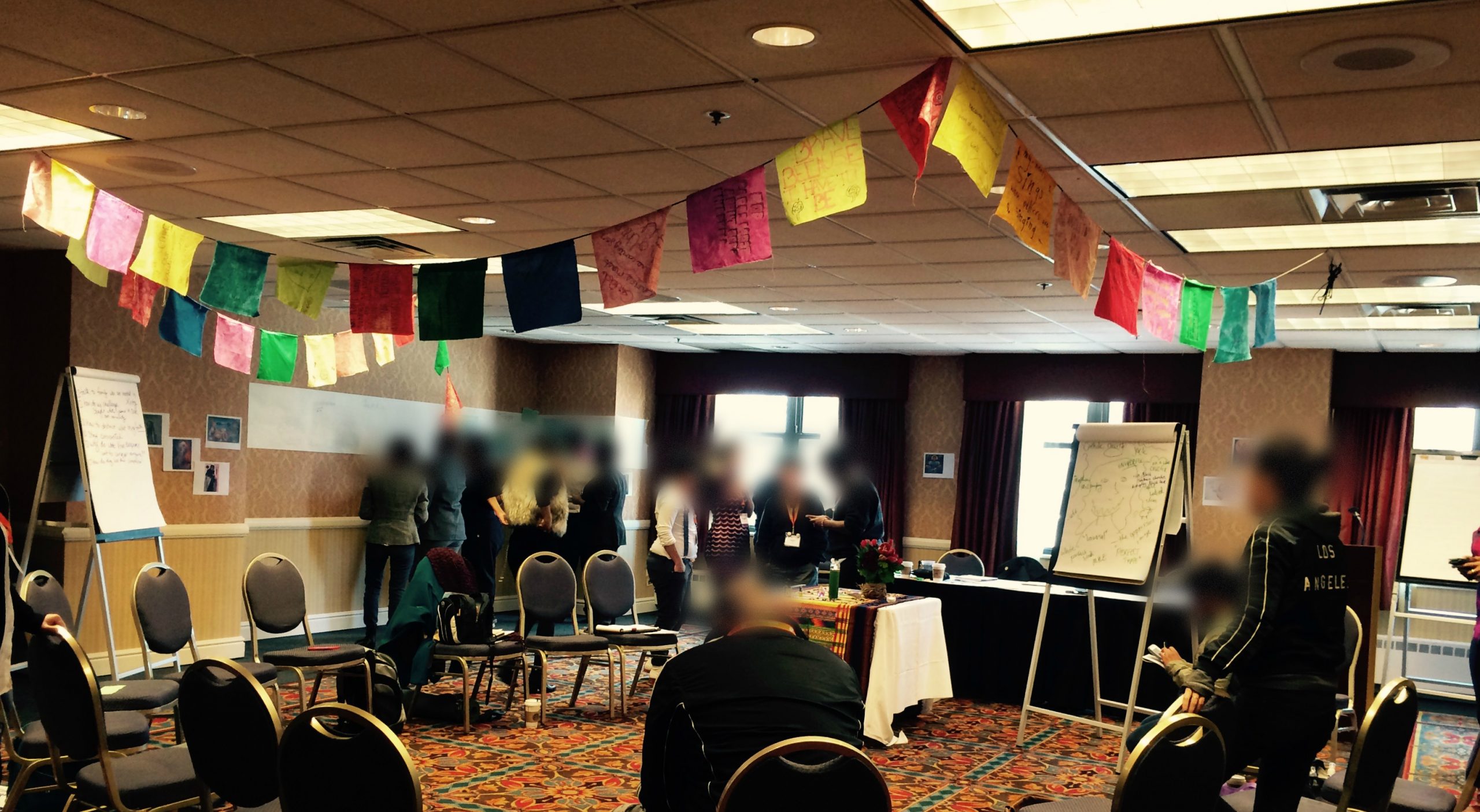 I wanted to attend Creating Change for several reasons.
For starters, I had been wrestling with the social construction of gender (and more specifically the gender binary system) ever since I encountered, through a first-person account, the prison story of a formally deported Transwoman in my VDS course entitled "Traversing Our National Wound: Immigration and the US/Mexico Border." I felt that Creating Change would provide a space in which I could engage in dialogue and reflections on faithful responses to gender discrimination in the prison system and gain insights and tools that I could take back to my justice communities in Nashville and Philadelphia. Additionally, as a soon-to-be faith-based low-to-middle income community organizer, I wanted to meet organizers of faith who are fighting to advance LGBTQIA justice through their churches.
Creating Change provided these spaces for me. In my day long institute, "Faith in Action: Reclaiming Faith, Advancing Justice," people across faith traditions met to discuss real-lived faith, sacred texts, and intersectionality and explore intersectional organizing and advocacy skills that would help us to tackle various LGBTQIA issues, ranging from the prison industry to religious exemptions.
The institute was powerful. I walked away feeling lifted and more confident in me and my colleagues' abilities after the first six hours. Still, little did I know, what I wanted was nothing in comparison to what God had in store for me.
I entered the experience with faith and organizing on my mind and left with greater hope and healing.
Following the day-long institute, I attended an opening plenary session concerning Black feminist leadership, social justice, and intersectional movement-building. As I sat and listened to Black Feminist Barbara Smith, Trans-activist Reina Gossett, and Black queer feminist organizer Charlene Carruthers engage in intergenerational dialogue on prison systems in Chicago, New York, and Ferguson, the sterilization of East African women in Palestine, and the role of queer Black women in challenging and uprooting these systems and atrocities, I learned a great deal about the invisibility and erasure of Black Queer and Transgender Women in social movement talk as well as Global Black Queer Feminist Power. Their conversation ultimately helped me to gain knowledge on Black women's lead roles in social movements as well as a deeper sense of trust in my vocation as an organizer.
For the remaining days, I engaged in many conversations with Black queer women across the United States about their justice work. Additionally, I attended interactive workshops, one in which people of color discussed and created experienced-based tools that allow us to confront and heal from the harm that Straight White Jesus brings to our faith communities, and another in which survivors of sexual assault created powerful toolkits for personal and communal health and healing. All in all, Creating Change was a remarkable experience that granted me an opportunity to heal and learn from phenomenal Black Queer women who do extraordinary work on the ground, every-day. And ever since, I have been researching Black Queer and Trans Scholars and activists, like Riley Snorton and Charlene Carruthers in an effort to learn more about Black life, Black history, Black hope, Black healing, and Black liberation efforts.