The 26th National Conference on LGBT Equality: Creating Change took Houston, Texas, by storm on January 29 through February 2, 2014.
Nearly 4,000 people from all over the country attended the five-day program that featured over 390 workshops, training sessions, meetings, and events. In addition, there were four unbelievably spectacular plenary sessions, including the opening plenary featuring the one and only Laverne Cox.
Vanderbilt Divinity students Darria Hudson, Caroline Leithner, Alba Onofrio, Alex Salfer-Hobbs, and Asher Kolieboi, alumna Carlin Rushing, and Assistant Director of the Carpenter Program, Lyndsey Godwin, attended. Vandy's attendees presented workshops, engaged in discussions, and  met with activists, educators, and faith leaders from across the nation, particularly in Creating Change's "Practice Spirit, Do Justice" track.  This track of workshops is sponsored by the E. Rhodes and Leona B. Carpenter Foundation, the same foundation that supports our Carpenter Program and through which our attendance was made possible.
VDS Voices will share stories each Wednesday in May from the students who attended this amazing conference. We begin today with a reflection from Caroline Leithner, a dual-degree student in the Divinity School and the School of Nursing.
I had the incredible privilege of attending the National Gay and Lesbian Task Force's Conference on LGBT Equality: Creating Change.  Thursday night, January 30, was the opening plenary, and the keynote speaker was Laverne Cox, activist and actress extraordinaire.  She is an activist who has not forgotten the community upon whose shoulders she stands, and she speaks on behalf of the people she calls family who do not have the national platform she does.  She spoke truth to power:
"There is a system that makes trans* people, especially trans* people of color, disappear. And the criminal justice system is a big part of that."
"Trans* health is a right, and we are more than our bodies."
She was brutally honest, and brutal honesty is how change happens.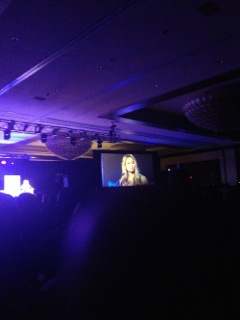 All bathrooms at the conference hotel were converted into gender-neutral restrooms—meaning that everyone was welcome in every bathroom labeled accordingly.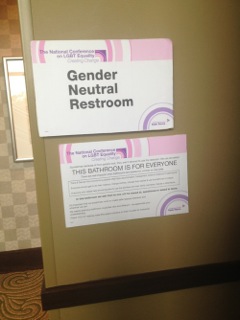 Then, once you're inside, you're greeted with another explanatory sign to drive the point home.  A friend of mine pointed out that these signs are "ironically normative and morally insistent."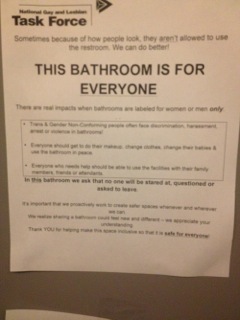 The gender-neutral bathrooms impressed me as a place of reflection and a point of contention with "the way things are" outside of the conference.  Creating gender-neutral bathrooms provides safe space for all persons, whether they need a moment to themselves, a location to breastfeed, or simply a place where they can relieve themselves without fear of discrimination.  This is a health issue and a theological issue.  If people who do not fit others' perceptions of "male" or "female" cannot use the bathroom, they run the risk of developing infections.  Further, by dismantling gender binaries in a way that puts all people on a level playing field, we see a model of how to live in a community that recognizes the human need for a bathroom over against gender policing.  This is one of the ways I saw God at the conference: a safe place to use the facilities where all are welcomed and none are turned away.