This March four students took part in the first ever International Interfaith Delegation to El Salvador in support of LGBTQI activist and people of faith, and attended the inaugural Festival de Fe in San Salvador (this trip/event coincided with the annual recognition of the martyrdom of Monsignor Oscar Romero.  The work happening in El Salvador is groundbreaking, as is the development of this partnership, and we are part of it.
This month, we share reflections from the students who were part of the delegation. Today's reflection is by Alba Nicole Onofrio, MDiv3. (Read the first reflection here.)
I am a Defender of Human Rights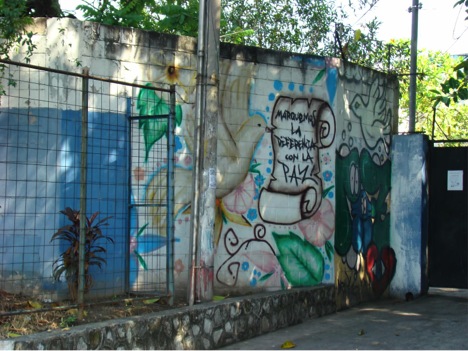 We entered the cozy meeting space of the Colectiva Alejandria in much the same way we began most all of our visits to community organizations in San Salvador. We arrived and were warmly greeted by community members and welcomed into their space. We went around and introduced ourselves as ordained ministers, VDS graduate students, chaplains, and leaders of a whole host of faith-based organizations and programs. We outed ourselves as "trans-man", "lesbian", "HIV-positive", "queer", "gay", and "ally". They identified themselves as students, nurses, former sex workers, participants in various classes and programs, and currently unemployed. They outed themselves as "trans-woman" and "intersex woman", but the self-designation and identity we heard claimed more than any other was "defender of human rights." Wow.
In a place where LGBTI people are regularly murdered in the streets in the most brutal and denigrating of hate crimes (for example, check out https://www.solidarity-us.org/site/node/1754), I was astounded by the magnificent audacity of the community to reclaim their identity as freedom fighters. In the face of public scorn and violent discrimination, the LGBTI community is naming its people "defenders of human rights." I cannot overstate the personal significance of hearing this life-giving, life-affirming designation over and over again in our different meetings and gatherings.
I just kept thinking, what if the very things we are shamed for being—gay, fat, divorced, dark, poor, ugly, undocumented, southern, etc.—what if every time we heard those internalized voices of judgment and hostility in our own minds, we replaced those hate-filled labels with a call to action that affirms both our human identity and our responsibility to help others? What if our primary title and identity was "defender of human rights"? How would that shape the work we do in the world and change how we see ourselves and others? I can imagine it would change a lot.
The label doesn't fix everything; in the LGBTI community in El Salvador there is still annihilating stigma, murderous terrorism, and pervasive suicide to combat; but the job title is nevertheless important. It says that we, as marginalized peoples are human beings with purpose. It says that we are in a unique position, as those who are directly impacted by oppression, to name it and claim our humanity anyway. It says that because we know how it feels to be dehumanized for a particular identity, we have an obligation to be in solidarity with all people whose humanity is denied for any reason. Our collective identity is children of God, and our call is working for the right to life and dignity for all people.
May we be faithful to our call. May we continue to pursue the life and career entitled "defender of human rights" like our LGBTI brothers and sisters in El Salvador.