On November 1, in many Christian traditions, we observe All Saints' Day and All Souls' Day, where we offer a "Requiem for the Dead" — a moving, often solemn remembrance of our faithful departed in song and prayer. Increasingly though, in many Christian communities, especially those with congregants from Latin American backgrounds, we have integrated the cultural and religious observance of El Día De los Muertos, the Day of the Dead.
This observance, while similar in meaning, looks and feels different than a traditional All Saints' Day observance. El Día de Los Muertos is a festive and colorful observance that serves more as a celebration, seeking to joyfully honor our loved ones in the way we remembered them while they were alive. Throughout Mexico, many parts of Latin America, and in many communities in the United States, people celebrate el Día De los Muertos on November 1st and 2nd, by visiting the grave-sites of loved ones. In the Mexican tradition people process to cemeteries and gather for hours; grave-sites are cleaned and covered with candles, marigolds or other flowers. People lovingly prepare the favorite meals and drinks of those who have passed, and they gather in prayer and song, connecting somehow with the spirits of their departed loved ones. Others celebrate by making an altar at home with pictures and many or all of the above items.
Over the years, this tradition has become more popularized with certain staples such as calaveras (edible sugar-candy skulls), and pan de muerto ("bread of the dead," a special sweet bread made for this time of year).  People tell stories, even jokes, about their faithful departed.  And through all of this, families feel the presence of their loved ones that have passed on.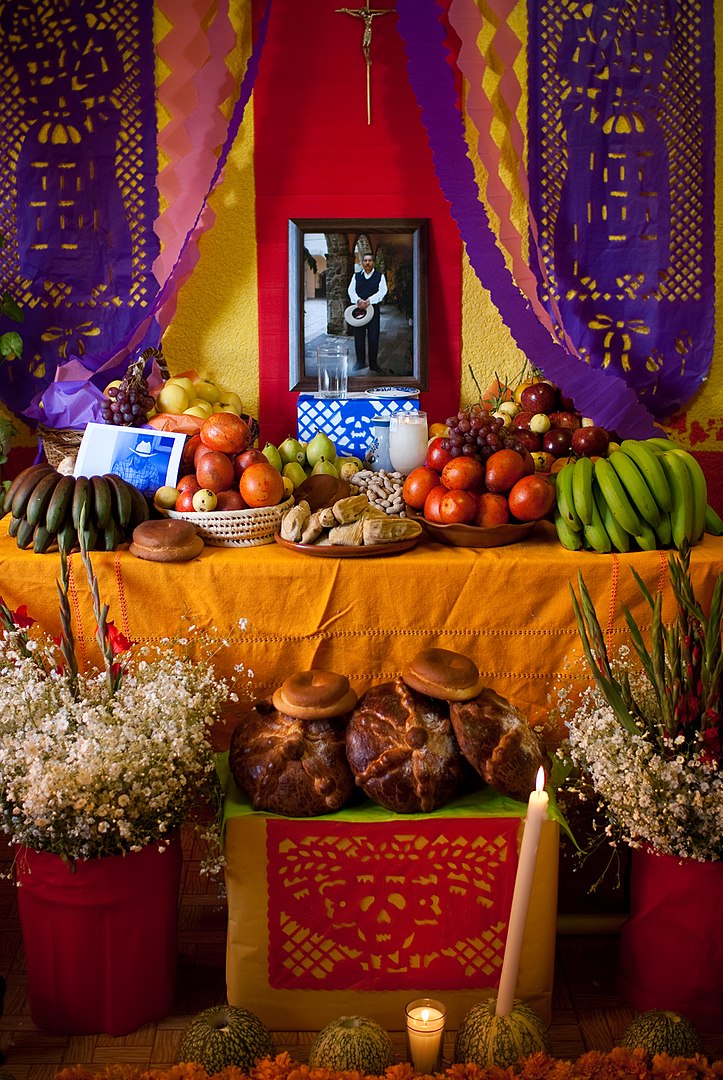 Each Día de los Muertos, I celebrate in particular the lives of my Abuelitos (Grandparents), all who have passed on. I also celebrate my Uncle Luis, who left us too soon a number of years ago. I will never forget his passion for music and poetry, his life of service and commitment to his family, and the joy he brought to the people around him, even strangers.
El Día de los Muertos also has another dimension for many, that of honoring our "collective dead," those people, often nameless and invisible, who have departed for reasons of suffering or systemic injustice– poverty, war, violence, mental illness, natural disasters. When I think about el Día de los Muertos, I think about how we must celebrate and honor the dead by loving the living, and loving the living means working for a more just, humane, and compassionate world, for the sake of our children and future generations. It means heeding the call to "love one another as Christ loves us."
---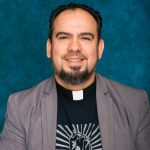 The Rev. Francisco García is a first year PhD student and Theology and Practice Fellow at Vanderbilt University, focusing on Theological Studies and Ethics. He is also a Graduate Research Fellow at Vanderbilt Divinity School's Wendland-Cook Program in Religion and Justice. An ordained Episcopal priest and former community and labor organizer, his research project entails developing a theology of organizing rooted in the liberation tradition in order to better equip communities of faith to address the pressing justice issues of our time.
Francisco comes to Vanderbilt from Los Angeles, California, and grew up in a working-class, Roman Catholic, Mexican immigrant household. Francisco attended UCLA where he received a BA in Latin American Studies and Public Policy (2001), and concurrent Masters degrees in Urban Planning and Latin American Studies (2004). He found his way to the Episcopal Church as a young adult, and this is where he discerned his call to ministry. Francisco completed his M.Div. from the joint program at the Claremont School of Theology and the Episcopal Theological School at Claremont, and was ordained in the Episcopal Diocese of Los Angeles in June 2013.
Prior to ordination, Francisco worked in the labor movement for a dozen years in various organizing, negotiating, and leadership capacities with workers in both the public and private sectors. His work over the last ten years has centered around congregation-based ministry and interfaith community organizing/advocacy around immigrant rights, housing rights, and racial and economic justice issues. During this time, he served in leadership roles at two parishes–most recently as the Rector of Holy Faith Episcopal Church, a multiracial, multilingual congregation in Inglewood, California. In 2016, Francisco facilitated an organizing effort making the Episcopal Diocese of Los Angeles a Sanctuary Diocese, and co-founded the resulting Diocesan ministry known as Sacred Resistance.