Our monthly Alumni/ae Tuesday Guest Post series on the VDS Voices blog highlights posts written by VDS and GDR alumni/ae. Hear firsthand about their important work in the community, collaborations with other alumni/ae and faculty, and much more.
Be sure to also check out the Divinity School Instagram feed every Tuesday for our Alumni/ae Instagram Takeover Day. Each week, we will showcase a different alumnus/a as they document their day in photos. Follow @VUDivinity on Instagram today!
If would like to contribute a post to the Alumni/ae Tuesday Guest Post series, or participate in our Alumni/ae Instagram Takeover Day, please email Addie Sullivan (addie.sullivan@vanderbilt.edu)  in the Vanderbilt Divinity School Alumni/ae office.
by Katy Scrogin, MTS'03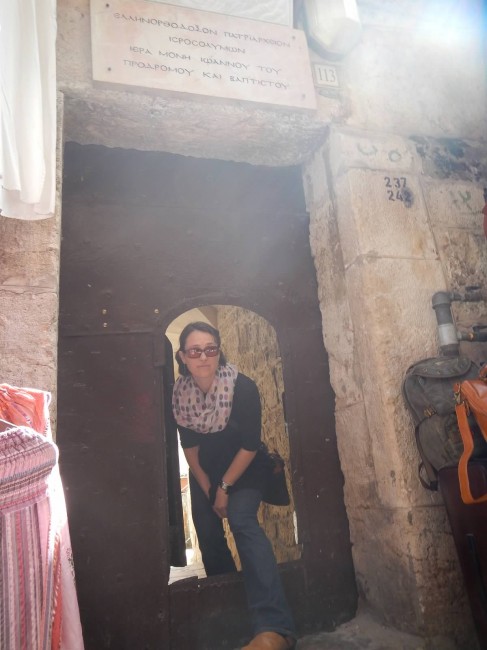 I ditched my car when I moved to Chicago. Living in the middle of things, right next to a subway and bus hub, there's no need to bother with it. And even during the city's challenging winters, I walk the twenty-five minutes to work every day; I stay sane by moving, and I'm privy that way to little changes– a new piece of graffiti, a new soapbox orator on the corner– that I wouldn't be otherwise. Whether on foot or via public conveyance, getting from one place to another entails interacting with a constantly changing flood of people, in milieux whose surfaces shift almost imperceptibly every day.
While at Vanderbilt, I took a seminar with Peter Hodgson, in which we read Graham Ward's Cities of God. It was less the theological assertions that pulled me in, and more the thoughts on and use of urban planning and theory that caused me to sit up and pay careful, even intense, attention. If this was what religious study could encourage and lead to, then I was definitely in the right place. The book and its thoughts about un/just urban geographies– who has access to transportation, to housing, to food, to education, to clean air and safe streets, and how location and design fit into the availability of those privileges– has accompanied me on a weird path. Thinking I would end up teaching, I made heavy use of Cities of God in a dissertation on democratic reform– and even after I realized academia wasn't for me after all, I carried the insights in Ward's book with me into a career in media. Along with fellow Vanderbilt grad– and participant in Hodgson's seminar– David Dault (MA'06, PhD'09), I'm not only making podcasts that delve into how people live out their religious commitments, but am also producing documentaries that investigate issues faced by Chicago residents, as well as the faith communities that address those issues.
When I arrived in the city, I got in touch with friends of friends, usually community activists, religious leaders, and theater people who were kind enough to take me on walking tours through their neighborhoods. They agreed to set me down in and introduce me to the lived contexts of unique communities and the challenges, celebrations, businesses, support groups, and everyday human relationships to be found there. I went on walking tours, took advantage of open houses. I used public transportation as a means of research, confronting the cumbersome reality of running for a bus in a snowstorm with a couple of bags of groceries, or figuring out how to craft my day around a train schedule in a transportation-poor neighborhood. It was Ward who first made me explicitly aware of the fact that if I didn't know the city firsthand, beyond the official accounts I received from newspapers, TV, and radio– if I couldn't trace the lived shape of a place– I had no business telling stories about it.
It wasn't the British theologian or our discussions about him, that got me walking and hopping onto packed trains; I've been an oddly enthusiastic fan of public transportation for most of my life. But those conversations more than a decade ago in Hodgson's office did get me to start looking at the built environment and the people moving through it as more than a neutral collection of walls and lawns and closed or open space, an environment on which neither I nor any other average person could have any influence. And as I've kept returning to a book I never would have predicted would have had such a determining impact on my life, I've also realized that if you want to know people– their beliefs, their habits, their hurts– well enough to have the right to tell their stories, you have to know their geography, too. I'll keep walking, then. After all, better knowledge, and the better stories that result, might just trigger some change for the better.
About Katy:
Katy Scrogin is Vice President for Programming for the Chicago Sunday Evening Club in Chicago, IL. Prior to her appointment at CSEC, Katy worked as a translator and editor. She also continues to serve as the senior producer for the podcast, Things Not Seen: Conversations about Culture and Faith.
Katy received a Ph.D. in Religion from Claremont Graduate University, where her work focused on ethics. Her Master of Theological Studies is from Vanderbilt University, and her Bachelor of Arts in German and Spanish is from the University of Texas at Austin. Katy's interest in media has included work with Recording for the Blind & Dyslexic in Austin, TX, and with The Peoples Channel in Chapel Hill, NC.