In this assignment, VDS students reflect on their encounter with various Christian traditions. Our goal is not just passive knowledge but for students to add their own voices to the many interpretations of Christianity. Given the diversity of the VDS community, our voices speak from a variety of perspectives. Nevertheless, we have each encountered the long and contested history of Christianity. To this end, students are encouraged to think about their engagement with Christianity as a form of "remix." What is a remix? While it is best known today as the use of sampling in hip hop music, the concept of remix is also a long-standing method for weaving new messages out of the strands and threads of past ideas and experiences. Accordingly, quite regardless of whatever our own particular religious identities may be, our engagement with the history of Christianity adds new interpretations to how Christianity is understood.
by Teresa K. Pecinovsky, MDiv2
A young woman jumps into a pool of deadly seals, miraculously surviving as lighting strikes the seals dead.  A new mother breastfeeds her son in prison for the final time before her martyrdom.  A sister prays over her brother, convincing him to lead a contemplative and spiritual life.  An empress, disagreeing with her husband's theology, sends her own missionaries ahead of his own.  These are just four of the many striking images of women in early Christianity that stood out to me during my first semester of Divinity School in the course, ,Formation of Christian Traditions.  When it came time to respond to the readings, Professor David Michelson offered a creative option to us, and I eagerly accepted.  What began as a project to fulfill a class requirement ended up as a surprising encounter with the power of icons in imagining women in Christian history.
My first subject was Thecla, from the Acts of Paul and Thecla,[1] who, after meeting Paul, converted to Christianity and rejected her fiancé.  As a rich young woman expected to marry, she defied her family and society's expectations, bringing condemnation and violence upon herself.  I wanted my image of Thecla to reflect her defiant spirit as she saw her opportunity to be baptized at last, even if it meant her death.  My husband, a professional artist, showed me how to transfer my initial drawing to tracing paper, press it on linoleum blocks, carve out the image, ink and print it on Bristol paper.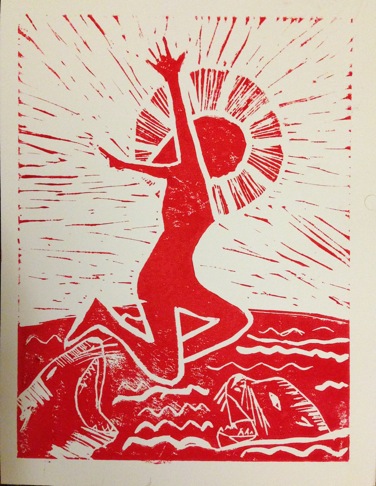 I loved this assignment because the print fostered dialogue about the importance of women in Christian history, egalitarian practices within modern church leadership, and the power of icons. Images contain the power to stay in and foster our imaginations in ways that written words often lack. When it came time to expand the remix assignment I chose to illustrate three additional women featured in our class readings that represented significant shifts in early Christianity: martyrdom, monasticism, and imperialism.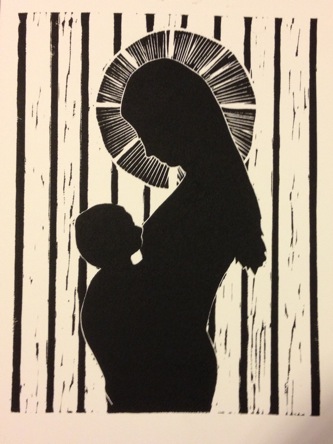 This print features Perpetua breastfeeding her son while imprisoned, from The Martyrdom of Perpetua and Felicity.[2] I wanted to show that women who courageously took on martyrdom in early Christianity (203 CE) gave up what they were most valued for in Roman society—marriage and motherhood.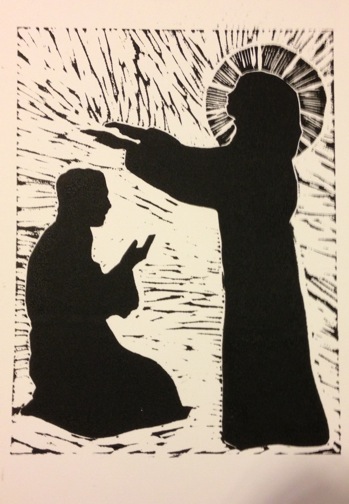 This print shows Macrina teaching and praying over her brother Basil, (around 356 CE).
[3]
Macrina represents the women leaders in the monastic movement who influenced their families and communities towards deeper spiritual lives of contemplation and service.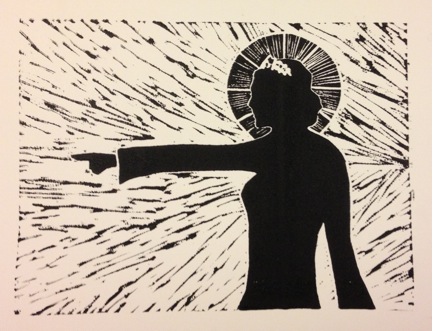 The final print portrays Empress Theodora sending her miaphysite missionaries to Nubia, ahead of the Chalcedonian missionaries of her husband, Justinian, between 527 and 565 CE.[4] Their relationship paralleled many Christian communities of faith who ardently opposed each other's theology on the nature of Christ.
I believe in the power of images to spark our theological imaginations.   Too long have we hidden the lives of these women in textbooks and classrooms.  I hope these images will continue to be shared so that many will celebrate the lives of so many faithful women in history.   The evolution of Christianity presented believers with new challenges and obstacles to overcome.  Their stories still encourage us now as we honor their history and look for inspiration for the future of Christianity.
Thank you to Professor David Michelson and Drew Martin for their guidance in this project and my husband, John Siemssen, for his instruction in linoleum printing.
[1]"Acts of Paul and Thecla." In Readings in World Christian History, edited by John W. Coakley and Andrea Sterk, 48-52.  Maryknoll, NY: Orbis Books, 2011.
[2] "The Martyrdom of Perpetua and Felicity." In Readings in World Christian History, edited by John W. Coakley and Andrea Sterk, 30-37.  Maryknoll, NY: Orbis Books, 2011.
[3] Robert Louis Wilken, The First Thousand Years (New Haven, CT: Yale University Press, 2012), 105.
[4] Robert Louis Wilken, The First Thousand Years (New Haven, CT: Yale University Press, 2012), 211.