This season after Pentecost, the Spirit is speaking to me through sisterhood: the unique and powerful sisterhood I have found in the Army Chaplain Corps.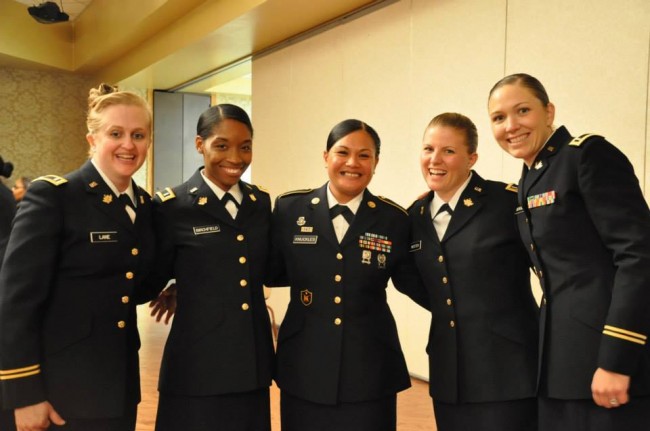 Often these sister saints are other female chaplains like Mary Miriti, Sharonda Watson, Lauren Hughes, Brittney Wooten, Delana Small and Roxanne Birchfield (yes, the one from "Survivor Phillipines".) However, sometimes they are other women serving veterans like Rev. Jennifer Crane, VA Chaplain and Mary Ross, Deputy Director, OSDTN.
In the summer of 2013 after four beautiful months of nursing my new baby (Justice Ryan Lane) at home with family, I left for Chaplain Basic Officer Leadership Course (CH BOLC for short), where I continued breast pumping during the course of CIMT or Chaplain basic training and 16 hour grueling Army training days.
I learned the meaning of sacrifice.
Other amazing mothers and fathers at my school supported me in what was essentially an experiment in many ways:
1) Because Army funds were cut, the soldiers at Chaplain School would live in 'barracks' and eat in the Drill SGT dining facility (DFAC) like other none-officer soldiers.
2) We marched everywhere we went (about 6 miles a day).
3) With unwavering encouragement from leadership, including CH (LTC) Karen Diefendorf, I proceeded to be able to finish nursing (from a distance) and boost my child's immunities through mother's milk.
Many female chaplains including CH (COL) Kristina Moeller, CH (LTC) Karen Diefendorf, CH (MAJ) Renee Kiel, and CH (CPT) Delana Small have laid down a path for me of guidance, wisdom, love, and esprit de corps that is invaluable to new Chaplains in training.
Veteran women like Mary Ross at Operation Stand Down Tennessee, Inc., also have inspired me in following my call.
In the Army, I realize that the Saints next door are also the women who have come before me. Anything that feels hard to me was likely harder for them, and they persevered. "Hooah," ladies!!
USACHCS (Chaplain School) did an amazing job of supporting me in this motherhood and ministry experiment.
I believe this should encourage other young women of child-bearing age who might be on the fence regarding joining military chaplaincy. Where God calls you and commands you, God will provide the path to succeed in all you do! This includes motherhood and ministry, even in the military.
My battle buddies were as hardcore ("Hooah" in the Army) about helping me breastfeed as they were about helping me get through gas chamber training, rappelling, and completing road marches.
One of my battle buddies, Mary Miriti, is from Africa. She grew up in the bush watching grazing goats alone in the dark. Did I mention she was barefoot?
She was not only helpful with my interesting situation–she was over-zealous! She would sneak me extra fruit and water so I had enough energy to breastfeed. She would hide with me in the back of Humvees in 100-plus-degree-South Carolina- heat while standing guard.
She would even offer to do it for me! Yes, you heard me right. She said that in Africa such behavior was polite. My American space bubble began to feel a bit small but I declined her offer even when exhausted.
With the love and support of Saints next door like Mary, and by the grace of God, I was graduated from CIMT that summer and CH BOLC on August 15, 2014.
Although leaving your family is intellectually, emotionally, and spiritually jarring, the love of other female chaplains made me feel like I could succeed and excel no matter what the challenge.
Mary Ross, a former Army NCO and Commander of the National Women Veterans of America explained to me before I left for Chaplain School that these friendships forged in tears, heat, and dirt could sustain me. She encouraged me to be honest about how hard it was to be separated from my family.
This is sacrifice. It does not feel good, but it's crucial to our American way of life.
"Thank you for your service" is wonderful, but make sure also to honor our families and say thank you to them because some of the hardest sacrifices made are made by our families.
Those in the Christian community can be a great resource for our families affected by military commitments and loss as they remind them of God's love and care and support them in whatever ways possible.
Although God's love is strongest when I am home with my family, I have also been blessed to feel God's love in the empathy of the other chaplains at school going through similar feelings of loss and separation and in the hugs of those who have reached out to support me in my multi-faceted call within a call.
There should be no shame in missing our families, even in a Hooah Army culture.
When the bravado comes crumbling down, God's love is there in sometimes surprising ways to fill your heart with joy until you are reunited with those who know you best.
A chaplain candidate in the U.S. Army, Jennifer Lane, JD/MPA, is in her final year at Vanderbilt University Divinity School. She has studied internationally and served with numerous nonprofits, most recently as a chaplain with Operation Stand Down Nashville, working with homeless veterans. Jennifer and her husband James have a toddler son, Justice Ryan Lane.