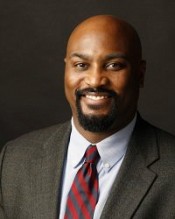 Each month, we ask a member of the Vanderbilt Divinity School faculty to recommend a book they are currently reading. Our October recommendation is offered by Juan Floyd-Thomas, Associate Professor of African American Religious History.  Professor Floyd-Thomas recommends "The New Abolition: W.E.B. Du Bois and the Black Social Gospel" by Gary Dorrien.
Gary Dorrien's The New Abolition stands as an insightful and challenging book that illuminates how the pioneering African American scholar-activist W.E.B. Du Bois wrestled with the complex interplay of race, faith, and politics in Progressive-era America.  Although sadly overlooked within the broad historical narrative of American religion, the Black social gospel arguably was one of the most relevant and influential religious movements of the twentieth century. As Dorrien defines it, the Black social gospel "affirmed the dignity, sacred personhood, creativity, and moral agency of African Americans and responded to racial oppression. It asked what a new abolitionism should be and what role the churches should play within it. Like the white social gospel, it had numerous ideologies and theologies, but here the trump concern was distinctly given, obvious, and a survival issue: upholding black dignity in the face of racial tyranny. Here the belief in a divine ground of human selfhood powered struggles for black self-determination and campaigns of resistance to white oppression" (p. 2).  Reading this statement against the backdrop of our current moment—an era that will marked by the bittersweet legacy of President Barack Obama and the awakening of the #BlackLivesMatters movement in addition to the toxic emergence of Trumpism and the so-called Alt-Right—Dorrien's words should remind readers that our shared history is determined by moral choices and political actions that have a substantial and substantive impact on how we are going to live in the world.  In what presently seems to be a highly volatile and vitriolic moment in our nation's existence, the author gives us a meaningful glimpse of how an earlier generation of activists, advocates, and allies of social justice refused to remain either silent or submissive in the face of racial segregation and white supremacist terror.
Enmeshed within a great cloud of prophetic Black witnesses such as Ida B. Wells, Alexander Crummell, Henry McNeal Turner, Nannie H. Burroughs, George Woodbey, Adam Clayton Powell Sr., Richard R. Wright Jr., and Reverdy C. Ransom among countless others, the author clearly illustrates that Du Bois poses a considerable paradox within the academy and the church both then and now. Having frequently taught courses focused on Du Bois for nearly two decades, I always found it ironic that throughout his life he was often deemed much too religious for secularists but also seemed too secular for religionists. As if the answer to a silent prayer, Dorrien argues, "Du Bois was not a godless intellectual removed from the biblical cadences and imagery of the black church.  He embraced the prophetic ethical religion of Jesus. He defied a white oppressor that did not see the beauty and genius of [African Americans]… And he wanted black Americans to believe that their liberation from oppression and exclusion was coming" (p. 229). Thus, the author situates Du Bois's efforts to promote social justice as being indispensable to a more robust and pluralistic vision of American religion. In the realm of American society and culture, the author depicts Du Bois as a radical visionary in terms of religious belief as well as racial politics whose message is just as imperative in 2016 as it was over a hundred years ago.
Without question, The New Abolition will be a vital addition to scholarship on the life and legacy of Du Bois.  While a growing number of scholars are exploring the role of religion in Du Bois's worldview, Dorrien's thoughtfully persuasive and provocative writing ably demonstrates that there is great need to revisit and reclaim such insights in future research.  In ways both large and small, The New Abolition thoughtfully evokes both the spirit and substance of Du Bois's moral worldview in ways that will certainly make it essential reading to anyone genuinely interested in U.S. religious and intellectual history.