With Commencement on the horizon, students in the Religion in the Arts and Contemporary Culture (RACC) program at Vanderbilt Divinity School have been preparing final projects to complete the requirements for the program's certificate.  Four of 2018's certificate recipients are extending their creative reach beyond the Divinity School community to the larger university community and the general public.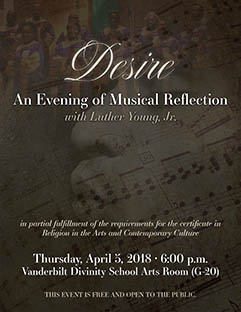 While pursuing his Master of Divinity degree, Luther Young has undertaken research at the intersection of race, sexuality, and theology. An extension of the M.Div. Senior Project entitled "Pimps and Sissies: Gay Men, the Black Church, and Liberation Theology," Desire: An Evening of Musical Reflection uses song and narration to illustrate how gay black men of faith maintain their relationship with God, either within or without the Black Church. Luther along with members of the community will perform musical selections to guide reflections about the experiences of gay black men in religious contexts. Desire will be held Thursday, April 5th in the Divinity School Arts Room (G-20) at 6 p.m. The event is free and open to the public.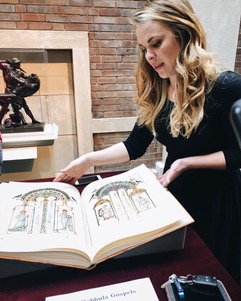 Julia Liden, a master of theological studies candidate, has worked as a research assistant in the area of Syriac studies with David Michelson, assistant professor of the history of Christianity.  As exhibition curator, Julia is overseeing a presentation of large-scale photographic reproductions of Byzantine iconography.  Her exhibition, "Eikon: a Triple Encounter" will open the afternoon of April 5 in G-20 on the ground floor of the Divinity School. In conjunction with the exhibit, Jelena Bogdanovic, MA'05, will lecture on "The Canopy and the Byzantine Church" April 14 at 3 p.m. Bogdanovic is associate professor of architecture at Iowa State and a leading historian of Serbian medieval art.  The exhibit, which is free and open to the public, runs through April 22. Gallery days and hours will be posted on the RACC website.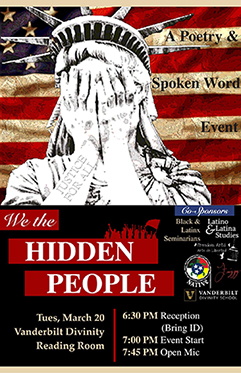 Armando Guerrero Estrada fine-tuned his poetic voice while a student in the master of theological studies curriculum. His final project will feature not only his own poems, but also a public performance of them.  As he began planning his event, Estrada reached out to other student poets and invited them to present their works as well.  Going forward under the title "We the Hidden People," this group-poetry and spoken-word reading will take place March 20 in the Divinity School Reading Room.  The event will begin with a reception at 6:30 PM.  Following the readings of featured poets, there will an "open mic" opportunity when a limited number of unscheduled poets can read. Estrada writes, "For the poet of color, daily life often involves times of conflict and struggle.  Poetry, then, often becomes a form of resistance."  Estrada's final project offers an opportunity in which "poets of color can come together to share their life story through their poems or spoken word." Joining Estrada will be students from NATIVE (Native Americans in Tennessee Interacting at Vanderbilt), the Latinx Seminarians, and other campus groups.  "We the Hidden People" is free and open to the community.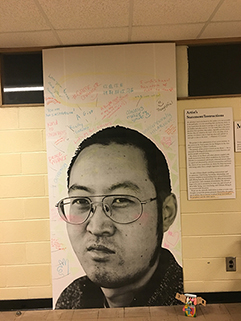 Steve Stone has continued his work as a practicing visual artist while pursuing the master of divinity. During his time at the Divinity School, Stone has brought his creativity to the service of community life.  As leader of Poiesis, the student arts collective, and as a facilitator of student arts events, Stone helped keep the arts in the foreground of theological discourse among his fellow students.  Stone's final project takes the form of several large-scale photographs—images of fellow students—which currently hang in the hallways of the Divinity School.  Stone says that his project is informed by one of the framing concepts of his master's thesis: "Art is essential to theological education in that it pushes people towards holistic being."
The use of black and white photos coupled with chalk inscriptions contributed by viewers helps to illustrate the idea that identity, although often co-opted and distorted by cultural constructions and biases, is a communal and deeply relational process.  Stone hopes that the size of his photographs (6' x 8')—each one a close-up portrait—will promote deep encounters with "authentic being" rather than simple experiences with photographs.  "Art offers an encounter, an experience, a moment of revelation. My ultimate hope is for the viewer to encounter, in some way, part of each of these folks' being, their own being, and Ultimate Being while interacting with these photographs," he said.
For more information, email Dave Perkins, associate director of RACC.