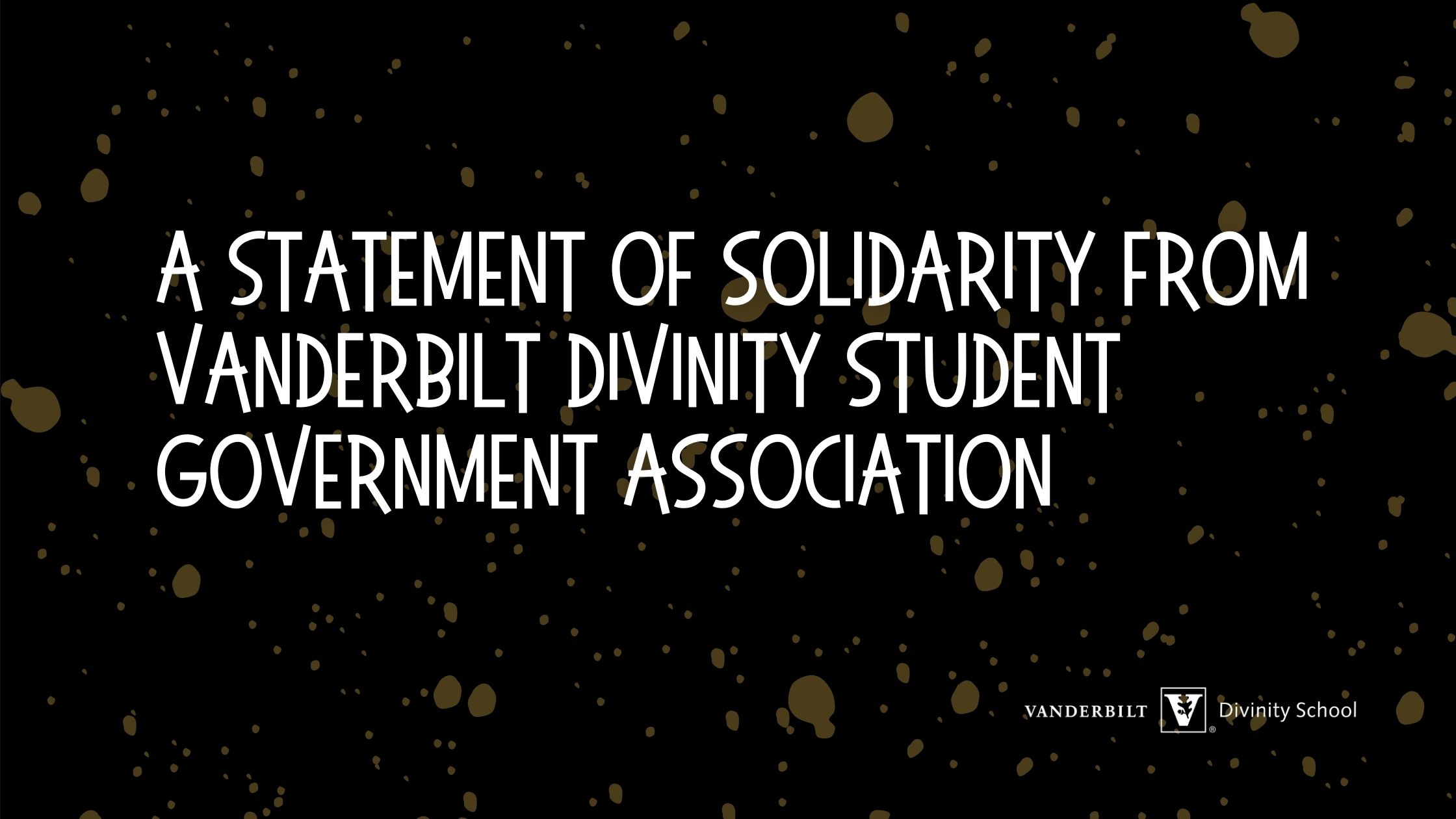 To the Vanderbilt Divinity School community,
In the wake of Tuesday's murders of Asian American persons in Atlanta and amidst a disturbing nationwide trend of violence, discrimination, and xenophobia directed against the Asian, Asian American, and Pacific Islander community, the Vanderbilt Divinity School Student Government Association declares our solidarity with our Asian, Asian American, and Pacific Islander siblings. What happened in Atlanta is only the latest example of more than 3,800 hate incidents against Asian Americans since March 2020. This pattern of bias and deplorable violence can be traced to ignorant statements by our most-recent ex-President who blamed the pandemic on a country, inflaming negative attitudes toward Asian persons rather than rallying the country behind our responsibility to each other to observe commonsense public health precautions. The murder of eight persons on Tuesday was aimed at vulnerable workers who are stereotyped and already struggling economically because of reduced patronage due to restricted movement during the pandemic. We celebrate our racial diversity and acknowledge Asians, Asian Americans, and Pacific Islanders as our siblings who deserve our concern not our hate.
The Executive Board of the VDS Student Government Association echoes the statements of the Dean of Students who condemned racism and expressions of hate, bias and discrimination in all forms. The trauma of these events can be overwhelming. If you need support, please consider reaching out to the Office of Student Care Coordination.  If any member of our community has experienced harassment or bias, please do not hesitate to file a report with the Equal Opportunity and Access Office.
For the AAPI community:
There is a processing space being held for AAPI community members across Tennessee on Monday, March 22, 2021 at 7 PM CT/8 PM ET.
Information is below and here's a link to the Facebook event.
Together, we will share how we are feeling during this critical time for our communities. We will share our emotions and talk about what we, as a community, want to see as next steps. Please fill out this form to receive the Zoom link for the event on Monday, March 22 at 7 PM CT/8 PM ET. Registration closes at 5 PM CT/6 PM ET on March 22.
If you are looking for ways to get involved, here is a list of resources:
Asian American Christian Collaborative 
National Queer Asian Pacific Islander Alliance
Asian Americans Advancing Justice
If you need assistance, please do not hesitate to reach out to us.  There are a multitude of resources available to you during this time and always.
We are activists and scholars-in-training who all are dedicated to justice, equality, and equity.
In Struggle & Solidarity,
Your 2020-2021 VDS SGA Exec Board
Ristina Gooden, President
Mack Griffith, Vice President
Emma Gautney, Secretary
Tasha Mitchell, Treasurer
Scott Mitchell, Second Career Representative
Perrin Bailey, Community Co-Chair
Lindsey Longoria, Community Co-Chair
Iman Ali, First Year Representative