In advance of all of our public lectures and community events at Vanderbilt Divinity School this year, we plan to interview each of our lecturers. Our first event highlighted is our Community Breakfast on September 25, 2014. (Register by following this link)
Three Questions with Emilie M. Townes, dean of Vanderbilt Divinity School and E. Rhodes and Leona B. Carpenter Professor of Womanist Ethics and Society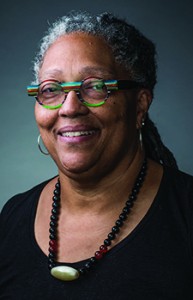 1.   What is the most difficult subject matter on which you have worked?
In my early years of teaching, I began to focus on the history and mission of Black churches. There was not a great deal of easily accessible information, and I also had to educate myself on US Black history. This was difficult to do because of the emotional element of learning a history I never knew and to be exposed to various details of how we have practiced inhumanity in a very systematic way through the institution of chattel slavery and the ways in which that transitioned into institutional racism that exists today. It was not only intellectual work, it was emotional work and I had to take breaks from doing the research from time to time so that I would not be overwhelmed.
2. What spiritual/meditative disciplines, if any, do you practice?
Primarily prayer and early morning quietude. I am usually the first up in our household, and I greet the day by watching the sky change from dark to light and spend about an hour in quiet—sometimes praying for the whole time, but more often mixing prayer with quiet reflection with God on what I must do to live into the gifts and mission I've been given.
3.  What was the last movie you saw in the theater? Did you like it? Why or why not?
"Twenty Feet from Stardom."  I loved it! It gave me a window into the world of some incredible voices of back-up singers and the journeys they travel to try to live their dream. Lisa Fischer rocks!