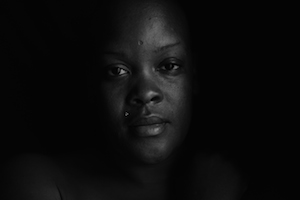 Sonya Renee is a Performance Poet, Activist and transformational leader Sonya Renee is a National and International poetry slam champion, published author, and transformational leader. Ms. Renee kicks off the first night of the second annual Art, Advocacy and Action Symposium on Wednesday, February 11 at  Vanderbilt Divinity School. For our readers to become acquainted with Ms. Renee, we asked her to respond to three questions.
1. Name one or two places (events, etc.) that were formative influences in your life.
Being the child of a military person affected my life view.  It made me flexible and at home anyplace. I still have a predilection for moving every 21 months and it also gave me an early critique on under what circumstances we should employ violence and risk loved ones lives.
2. What are your work practices?
I wake up at 8:30, brush my teeth, go downstairs with my Yorkie, make coffee, turn on my computer and start working. I am trying to learn when to STOP working.
3. What type of music do you listen to? Why?
I love all sorts of music but right now I am feeling this neo-soul jazz fusion that artists like Robert Glasper are doing.  It feels sensual and creative.  It is light some candles music and I love my candles!
For more information about Ms. Renee and Art, Advocacy and Action: This Is My Body: Exploring Gender and Sexual Equality, click here.