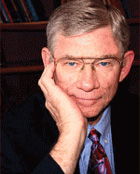 Tex Sample, the Robert B. and Kathleen Rogers Professor, emeritus,of Church and Society at the Saint Paul School of Theology, will deliver the 2014 Cole Lectures at Vanderbilt University on October 2-3. For our readers to become acquainted with Professor Sample, we asked him to respond to three questions.
1. Name one or two places (events, etc.) that were formative influences in your life.
Looking back now, two of the very most important and informative places in my life were the 13 Taxi Company in Brookhaven, Mississippi, and an oil field outside town where I worked five summers. My parents owned the cab stand—four cars held together with bailing wire and chewing gum—and I started to work there when I was 12 answering the phone and later, when I turned 16, driving a cab. That experience put me in touch with the underbelly of a small town with all its contradictions, pain, and celebration. It gave me what seems to be an unrelieved passion to understand ordinary life. The oil field put me in touch with very hard physical labor and the people who do it day after day, year after year. As a result, I have spent a good deal of my life trying to understand those men and women who really work for a living. Both of these experiences committed me to social change. The result has been a commitment to community organizing for the common good.
2. What do you do with your free time?
The major way I spend my free time is with my spouse, Peggy. We have been married 57 years, and she is my best friend, lover, and still the finest person I've ever known. We go to movies, watch special shows on TV, listen to music in bars and other venues in the city, take in art shows, and spend time with family. I am also not a baseball fan, but a baseball fanatic, so I follow the sport with enormous energy. And the church is central in our lives. We spend significant time with our congregation although I don't so much consider it free time as something to which we are called.
3.In what ways are the arts important to you and your work?
My spouse is an artist who works primarily in acrylic and watercolor. I love her work, and we follow art especially here in Kansas City where we have many friends in the art community. I also regard myself as a classical music Pentecostal, meaning that my aesthetic does not conform to Kant's notion of appreciation for art as disinterested. For example, I cannot sit still at a symphony. It is all I can do not to direct the musicians from my seat in the concert hall. I also love traditional country music: Hank, Merle, Johnny Cash, Loretta Lynn, and Dolly, but I also appreciate Garth and songs like Deana Carter's "Did I shave my legs for this?" I wrote a book called White Soul: Country Music, the Church, and Working Americans that lays out my aesthetic about as well as I know how.
Click here for more information about the Cole Lectures and Professor Sample's lectures on October 2 and 3, 2014.