Guest Story by Rev. Laura M. Cheifetz, Assistant Dean of Admissions, Vocation & Stewardship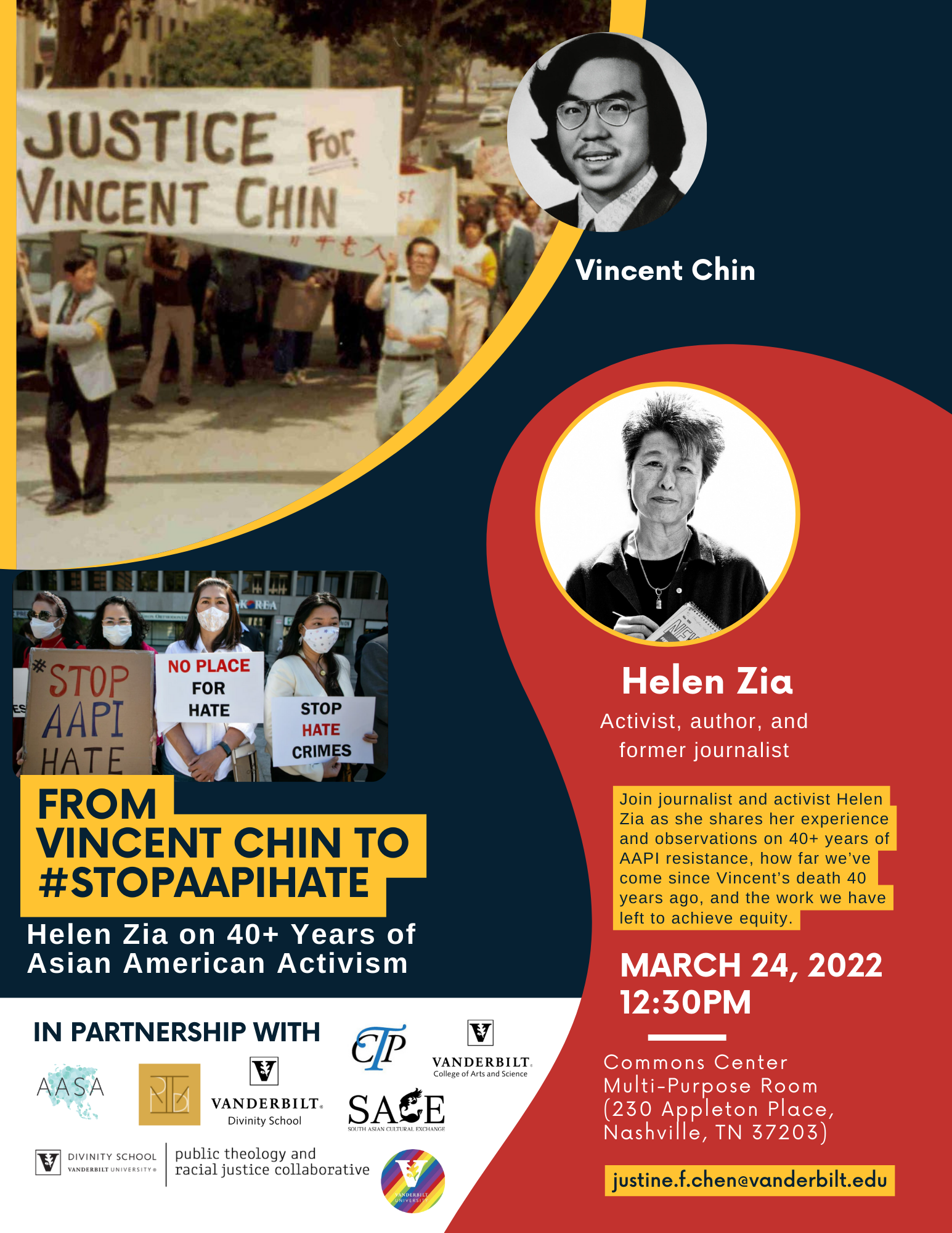 You are invited to hear Helen Zia, legendary author, activist and former journalist, speak here at Vanderbilt University on March 24. We will be welcoming her to the Commons Center Multipurpose Room (267 Appleton Pl, Nashville, TN 37212; 2nd floor) at 12:30pm for a roundtable discussion moderated by myself (Dean Cheifetz) and featuring faculty and student panelists:
Dr. Vivian Shaw, Mellon Assistant Professor of Asian American Studies, College of Arts & Science
Linken Lam, President of the Asian Pacific Islander Desi American (APIDA) at Peabody College
Varsha Nair, Senior Advisor for the South Asian Cultural Exchange (SACE) and the Asian American Advocacy Project (TAAAP)
Funny story, peak #VeryAsian and very American racism. I'm going to tell it chronologically. I promise it will make sense by the end.
My maternal grandmother was adopted by a childless couple after the death of her father, and I think it was because her (ineligible for citizenship thanks to anti-Asian laws) mother already had several children to figure out how to raise/support. Her adoptive parents had a farm next to another larger family. They were very close – one of the daughters of the neighboring family was close in age to my grandmother, and they were like sisters. Her adoptive mother died when she was six years old, and the neighboring family promised to help in raising my grandmother.
When she was 14, President Roosevelt signed Executive Order 9066, forcing the "evacuation" of all people of Japanese descent, both citizen and non-citizen, into concentration camps (I use this deliberately – my father's family is Jewish and we call the Nazi-era camps "death camps."). My grandmother's father and the neighboring family registered with the government as a single-family unit so they would not be separated. They all ended up at the camp in Topaz, UT.
The Quakers had a program to help college-aged Japanese Americans go to college east of the "evacuation zone." My grandmother's sister got out of camp to go to the University of Michigan. Once there, she met the student who would become her husband. Now, his father (?) came to Detroit to work for Henry Ford (yes, the Jewish person in me cringes right here). He was a chemist and knew rubber, so he helped with developing tires for the early Ford cars. They stayed in Detroit. My mom and her sisters had a whole crew of Michigan cousins who would come visit the San Francisco Bay Area in the summers.
A galvanizing moment for Asian Americans was in 1982 Detroit, when a young Chinese American engineer named Vincent Chin was murdered outside of a bar by two unemployed white auto workers. It was an explicitly racist crime, as they (and much of the United States) were turning against the rising popularity of Japanese autos as demand for large American cars fell. I think we would call this "economic insecurity" nowadays. You can read a lot about that here. The short story is that they were sentenced to only three years of probation and a $3,780 fine after pleading guilty to manslaughter, despite beating Chin with a baseball bat and screaming racial slurs. They never spent a day in jail. There was a successful civil suit, but that judgement was never paid out.
The organizing happened in Detroit, apparently some of it at my great-aunt's house. One of my mom's cousins, a lawyer, co-founded American Citizens for Justice with Helen Zia. This was the group that argued that the existing civil rights laws should be applied to Asian Americans.  This case also predated hate crime legislation in the United States. It galvanized not only the Asian American community of Detroit, but the Asian American community across the country.
Helen Zia is the executor of the Chin estate (they have to renew the civil suit every ten years because the fines were never paid), and my mom's cousin is the lawyer that does the filing. So, it was he who encouraged me to bring Helen to Vanderbilt University as a guest speaker. The University has a burgeoning Asian American student movement that organized to request classes in Asian American Studies and for better student representation. Asian American Studies faculty have gained two new hires in the past year.
Helen Zia is an Asian American icon. Long before I knew our family connection, I knew about her pivotal role in the Vincent Chin murder and subsequent organizing. I came of age reading her books, reading about how she and her partner were among the first same-sex couples to marry in California when it became legal in 2008 (queer Asian American representation is a thing for me), and worked for an organization she helped found. I even met her and asked her to sign a copy of one of her books before someone in my family saw fit to tell me about this connection (we might have some communication problems, but that's another story).
Two of the co-sponsors of this event are programs within Vanderbilt Divinity School – the Public Theology and Racial Justice project and the Cal Turner Program for Moral Leadership in the Professions – along with the College of Arts & Science, the VU EDI office, and the KC Potter Center. I hope you are able to join us for this momentous event that coincides with the 40th anniversary of Vincent Chin's murder, the 80th anniversary of Japanese American internment and the first anniversary of the anti-Asian shootings in Atlanta.