by Katye Stone, MDiv3 and co-chair of OWC
For the past three academic years, the Office of Womyn's Concerns (OWC) has offered a yoga class to the Vanderbilt Divinity School community. During the fall semester, the class is conducted each Friday afternoon for an hour, beginning at two o'clock, in All Faith Chapel. This practice offers a unique and refreshing way to reconnect with your body, spirit, emotions, and mind within the context of a supportive community.
Why Yoga?
The practice of yoga at the Divinity School originated with an idea of Emily Burg, MDiv'13. Prior to her arrival at VDS in 2010, Emily had completed her certification as a yoga teacher and had taught yoga to cancer patients in Los Angeles. When she was introduced to the Office of Womyn's Concerns, she was reminded of the importance of the body and the necessity of finding ways to honor, love, and celebrate our bodies as we learn together in community.
Emily began to offer a yoga class each week through the OWC to the VDS community. With her background in teaching cancer patients, she was able to adjust the instruction for each class to meet the needs of the diverse group that gathered—ranging from beginners to experienced practitioners. For our community, she sought to focus on the deeper, philosophical roots of yoga as a path to healing and wholeness, which serve as a much needed balance amidst the rigors of academic life.
Practicing with us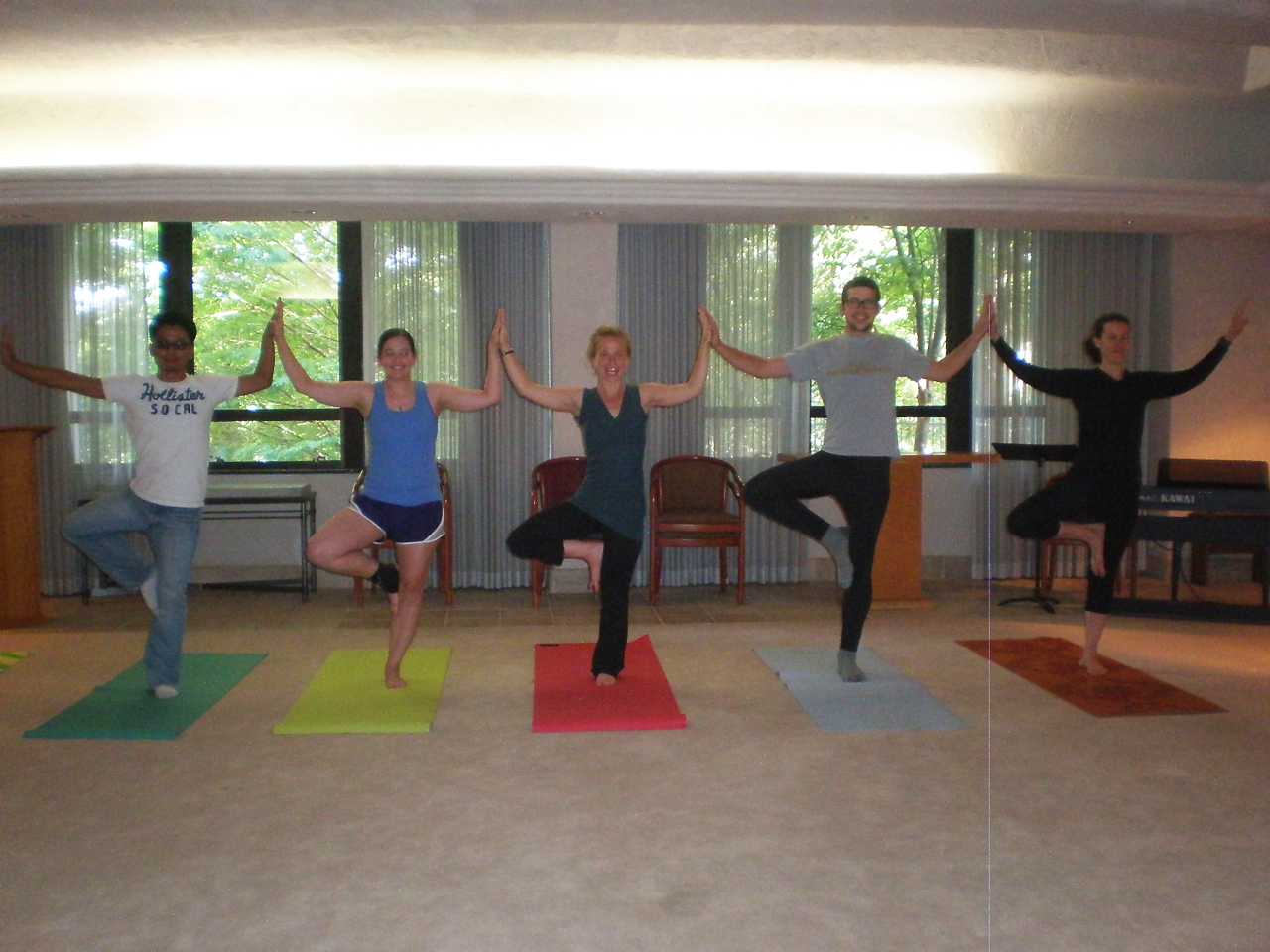 Although Emily has been graduated from the Divinity School, OWC is excited to continue offering a yoga class. We are grateful to have Laura Wallace as our teacher this year. Laura is a certified yoga instructor and has taught a variety of yoga classes throughout the Nashville area. She also is studying to become a massage therapist and incorporates this perspective of healing into her teaching.
All levels of practice are welcome—even if this is your first time on a yoga mat! Our classes incorporate a variety of practices that include hatha (a gentle form of yoga that focuses on several basic poses), vinyasa (a gentle, though faster paced form of yoga that flows through poses and synchronizes this movement with the breath), and restorative (a relaxing practice that focuses on extending poses in deeper stretches).
It is best to wear comfortable workout clothes. We encourage you to bring your own yoga mat, or OWC will provide one for you. If you have scheduling conflicts and need to arrive late or to leave early, you are still welcome to join us—quietly come or go. Our practice is about connecting more deeply to all of our experiences, loving and honoring our bodies, letting go, and seeking peace and compassion. We welcome you to join us as we practice together.
To view all the Divinity School events, click here.