Anthony Fatta, MDiv'12
Associate Pastor
Los Gatos UMC
Some say that laughter is the best medicine. I believe them.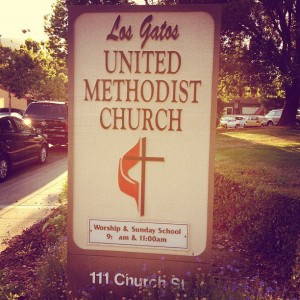 If you would have told me when I began my studies at Vanderbilt Divinity School in 2009 that I would be living in the Bay Area of California as a clergy person in the United Methodist Church, I would have laughed right in your face. Actually, I am still laughing. It is kind of ludicrous, right? An upstate New York boy ends up in Tennessee and then ends up in California. I joke with many of my parishioners that I may end up in Hawaii if I maintain my westward exodus.
I like to think that God delights as we strive toward our potential to answer the call that God places in our lives. As many of my classmates can attest, God calls us to do some farfetched things, and I was called across the country. Having never been to California, I packed up my car and moved my entire life there to serve the children of God at Los Gatos United Methodist Church, a worshipping congregation of about 250 people in the heart of Silicon Valley.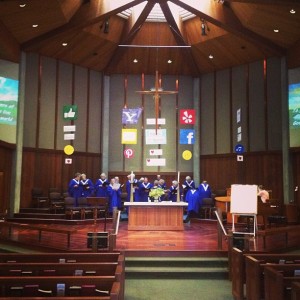 I had been having some issues in the ordination process for the UMC, so when I moved to California, I decided to switch annual conferences. I knew that God had played a role in this decision because I was welcomed very warmly. Doors of opportunity opened immediately, and I began my journey as a pastor.
I loved my time at VDS, but one of my other laughing points is how much more on-the-job training goes on post-seminary. After I was graduated, I thought I had authority and knowledge and that I was, therefore, a good pastor. Every day I encounter new things in my job that no Divinity School could teach me because I am learning about myself. I am discovering my own professional-personal boundaries, how to cultivate my spiritual life while helping others do the same, and how to navigate a variety of personality types. Most of all, I continue to learn to take joy in God's delights. In other words, I try to find joy in the relationships that I build with others, in the conversations I have with youth, and in meeting new people in the Los Gatos community.
To those who may not know where God is calling, do not worry. It will be made apparent if you do not take yourself too seriously and give yourself permission to laugh.