National Coming Out Week is full of celebrations around National Coming Out Day, October 11.  This tradition began with the March on Washington for Lesbian and Gay Rights on October 11, 1987.  Organizers of the event and LGBTQI activists decided to designate October 11 as a day to celebrate coming out and to commemorate the anniversary of the march that inspired Coming Out Day.[1]
But it's 2013. Why do we need National Coming Out Week? Why do we need a day for coming out as lesbian, gay, bisexual, trans*, queer, questioning, or a straight ally?
Because people are bullied, injured, and killed every day for simply being themselves. Hate crimes are on the rise.  Mark Carson, a 32-year-old man, was shot at point-blank range in New York City in May while walking down the street with his boyfriend.[2] Scott Jones was attacked on October 12 in Halifax, Nova Scotia, and friends believe he was targeted because he was openly gay.[3] Islan Nettles, a 21-year-old transwoman, was beaten while walking down the street and died in a New York hospital several days later.[4]
When being yourself and being able to represent your true self in public carry death-dealing consequences, it is of vital importance to remember those who have died, to support those who have survived, and to celebrate the diversity of the human experience.
Vanderbilt celebrated National Coming Out Week in style this year.  Two key events mark the week of celebration and support: the keynote speaker and the drag show.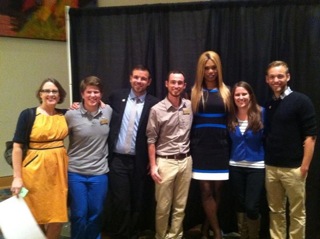 This year's keynote speaker was Laverne Cox, noted trans* activist and actress in the Netflix show Orange Is The New Black.  Speaking to a standing-room-only crowd, she told the audience her own story, weaving in the gender theory of Judith Butler and the writings of bell hooks.  She reminded us that everyone, especially LGBTQI folks, needs love and appreciation.  She told us of her past and present struggles with bullying, transphobia, and discrimination, reiterating that bullying is never permissible in any context.  Her speech wove strands of body positivity, inclusion, and loving oneself into a narrative that witnessed her upbringing, family relationships, spirituality, and advocacy work.[5]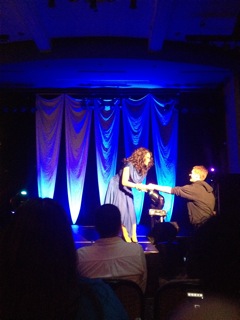 The drag show, headlined by RuPaul's Drag Race contestant Jujubee, was a roaring success the night after Laverne Cox's keynote.  Performers from the Nashville drag scene danced, did the splits, and whipped their hair to the delight of the crowd.  Although Jujubee was a huge draw, my personal favorite performance was by Vanderbilt senior Ames Sanders, whose carefully choreographed dance spoke to struggle and perseverance.[1]
What may not be overtly apparent amidst the excitement of National Coming Out Week is the gravity that exists below the rainbows, glitter, club music, and applause.  We celebrate because we can, because we have been able to navigate the safety of having non-normative identities in a world that functions best at the status quo.  We celebrate that we can hold events on the campus of a private university without serious concern for bodily harm done to participants.  We celebrate in recognition that while marriage equality rolls out across the country, our trans* friends have difficulties locating safe bathrooms.  We celebrate in recognition that we are able to love and be loved, even though queer-identified people of color are at an exponentially higher risk of verbal, physical, and sexual violence.  We celebrate in defiance of social norms, acknowledging the danger inherent in our actions, because we will not be able to rest until justice comes for all people, particularly those who identify as LGBTQI.
by Caroline Leithner, MDiv2
[1] https://www.hrc.org/resources/entry/the-history-of-coming-out