This past May, twenty Vanderbilt Divinity students and I travelled to Tucson, Arizona, as a delegation under the care of the organization BorderLinks. Vanderbilt Divinity School has partnered with BorderLinks for its last seven delegations, bringing groups of students every other year to Arizona for a week of engagement. Our trip was part of a class designed to engage issues of immigration, politics, action, and identity. Our intent was to learn about the tensions, complexities, and difficulties of the current immigration system in the U.S./Mexico borderlands. We heard many stories and were challenged in more ways than one.
BorderLinks is primarily an education and advocacy organization that facilitates groups of students, faith communities, and anyone interested in seeing firsthand the realities undocumented migrants and immigrants face in Arizona and the southern border states. Through education and awareness about immigration and border issues, the organization hopes to inspire social change.
The organization also practices sustainable living and educates participants about the connections between food and migration. BorderLinks strives to create dialogue, not only about political injustices related to immigration, but also about the relationship between food justice and migrant worker rights in an effort to inspire awareness about the ethical consumption of food and resources. To lead by example, the BorderLinks headquarters in Tucson maintains an organic garden that provides much of the produce for meals served to guests. They also compost any food waste and harvest rainwater for reuse.
On this trip, I was impressed by the vast network of people and entities BorderLinks partners with to inform and transform the members of delegations.
While we were in Tucson, we met Daniel Reyoy Ruiz who was facing a deportation order after it was discovered in 2011 during a routine traffic stop that he did not have documentation to prove he was a citizen. Daniel and his family were afraid they would be separated, and his faith community decided to respond. Members of Southside Presbyterian Church in Tucson invited the family to stay in the church and claimed sanctuary around them as a way of providing safety and protesting the destructive nature deportations have on lives and families. (Shortly after we returned, we learned Daniel's case had been dropped, and he is able to remain in the U.S. with his family.)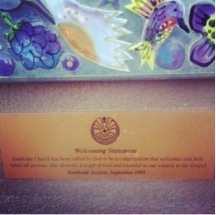 This act of solidarity and protest is not new for Southside. Under the leadership of the Reverend John Fife, Southside was one of the founding churches of the Sanctuary Movement of the 1980s, which gave safe haven to Central American refugees fleeing from civil wars and conflict in El Salvador, Honduras, and Guatemala. Fife and several others coordinated a system modeled after the Underground Railroad to transport refugees to safer areas so they would not be deported to violent, war-torn areas. Fife, who is now retired and spends time volunteering with other immigration advocacy groups, explained to us how his role as minister influenced his participation in the Sanctuary Movement and Southside Presbyterian Church.
Thanks to BorderLinks' connections with Southside, we were able to participate in a vigil service for Daniel and his family, as well as worship with them on Sunday morning. We also were able to speak with members of a faith community that is passionate about justice for undocumented migrants and their families.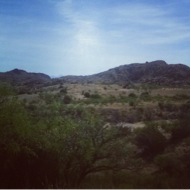 Our trip also included a desert walk outside of Arivaca, Arizona, with an organization called No More Deaths (No Más Muertes) where we saw the paths migrants walk through the desert in search of safety and promise for a better life in the United States. No More Deaths places water stations and food at various locations in the desert for any migrants making their journey to the U.S. We also spent two nights on the Mexico side of the border in Nogales, Sonora, with host families from whom we heard stories about life in Mexico since the implementation of NAFTA. We spoke with staff and migrants at Groupos Beta, an organization on the Mexico side that provides temporary services to recently deported persons or to those trying to reunite with their families.We heard from a lawyer in Tucson who works in the immigration court system and Operation Streamline, and we took a tour with agents at the Border Patrol station outside of Nogales.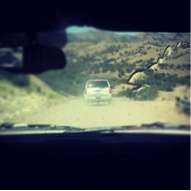 Thanks to BorderLinks and this class at VDS, I have learned about the systemic injustices meshed within the current immigration system and the responses being made by undocumented persons and their allies. The network and resources of BorderLinks are incredible and are sustained by volunteers. I feel as though our group is now a part of that web of allies striving for reform. The trip, however, has provided also an opportunity for self-reflection and discernment related to my personal identity.
As a mixed Latina with Mexican heritage, it was important for me to go on this trip to hear the stories of my ancestors and kin, and to see the realities they continue to confront. Being in the borderlands reminds me of the ways in which my identity is stripped, policed, and suspect… when people can see it. Since I have fair skin and can pass as "white" I rarely get profiled or questioned about my citizenship. The politics of being brown-bodied is not a reality to which I can relate, but many of my family members can. The trip was a way of expressing solidarity and kinship with persons whom I share a common historical narrative, even if our life experiences are not similar. I now feel tied to a part of my identity that I have been struggling to connect with for a long time.
This trip has been incredibly formational for me, and it will continue to influence my theological education at VDS and beyond. I hope this trip can continue to be another cornerstone in Vanderbilt Divinity School's foundation of justice work for the transformation of a better world.
Erin Guzmán, MDiv3