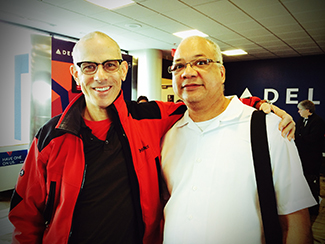 During Maymester, Professor Victor Anderson and I traveled with thirteen students to South Africa as part of a course studying collective violence.  We were a mixed group: black, white, Asian; gay, straight; old and young.  We came from different religious backgrounds, and brought our unique perspectives. The course material was difficult and asked us to confront the violence we do to one another as human beings.  In South Africa, we studied the history of racialized violence.  We learned of the horrors of apartheid and the religious, cultural, and political dimensions of it. And we learned about strategies for confronting and resisting violence.  South Africa has a long history of responding to violence creatively.  Mohandas Gandhi honed his non-violent resistance in South Africa before he brought his methods home to India.  And of course, along with Gandhi, Nelson Mandela and Bishop Desmond Tutu have won Nobel Peace Prizes for their creative, life-giving responses to the death-dealing violence that defined their experience as blacks in South Africa.
It was a delight to be in Soweto, South Africa— a key site of resistance—and to learn about creative responses to body and soul-crushing violence.  It was both challenging and fun to travel in a strange land with fellow travelers from Vanderbilt Divinity School.  It was gratifying to team-teach a course there with Professor Anderson.  I learned much about South Africa's history, and about the pervasiveness of the apartheid regime there.  But what was most striking to me was how fragile seemingly invincible structures of violence can be.  Apartheid only began as a formal system in 1948 and ended in 1992 with the election of President Mandela.  What seemed intractable, was in fact, vulnerable to better angels.
At the Hector Peterson Museum, we learned about the power of the apartheid regime.  We also learned about the power of people to take say "no more."  In the events that saw the death of young thirteen-year-old Hector were the seeds of South African Freedom.
Yet violence persists, both in South Africa, in the United States, and at Vanderbilt Divinity School. Indeed, it persisted in our own classroom interactions.  While the structures of violence can be fragile, so too are the structures of peace-making, of openness to the other, of curiosity and love.  It may be dramatic to say, but true, I believe, that violence can take place in small ways all over the place.  Indeed, our language—the way we speak, the words we choose, even sometimes the only ones available to us—can be violent-making or peace-making, and it can be difficult to untangle one from the other.  But we tried.
Our class this summer, titled Collective Violence: Politics, Globalization and Faith, was a study in the ways of both violence and peace, and I am particularly grateful for those who joined me in that most vital curriculum—one that addressed violence and peace both in the particular case of apartheid—and also in the more intimate confines of our life in Nashville and at Vanderbilt.  Violence persists.  Grace abounds.
Graham Reside
Executive Director, Cal Turner Program in Moral Leadership for the Professions
Assistant Professor, Vanderbilt University Divinity School