Originally posted on Scarritt Bennett blog on December 12, 2014 (https://www.scarrittbennett.org/about/blog/)
By Chandra Allen, MDiv '09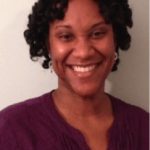 Today, I'm excited to share about one of our programs for women: Woman to Woman. It is one of the most exciting components of my work at the Scarritt Bennett Center. The Woman to Woman program began as a unique partnership between Scarritt Bennett Center and The Cal Turner Program for Moral Leadership at Vanderbilt University. In March 2010, a program panel about women's leadership was organized by The Cal Turner Program for Moral Leadership and sparked conversation about how women's mentoring programs might better cater to women's needs. The Cal Turner Program and Scarritt Bennett Center carry the conversation forward in early 2011 with a diverse steering committee with the hope of envisioning a new mentoring model.  We knew we wanted to establish a space where women could form small group relationships, encounter different life experiences and stages, and enjoy honest conversation. We desired a program that would honor the complexity of women's lives. Ultimately, we wanted to create a new opportunity to re-imagine leadership from a woman's perspective in a way that was creative and empowering. We thoughtfully crafted our mission: We are a diverse community of women who commit to gather and give voice to the re-imagination of the relationship between creativity and the ways women lead.
Over the last two years, over 48 women have participated in the Woman to Woman Program. We are currently in our third year of the program, with a group of 32 women. We seek to create a community that is inclusive, diverse, eclectic, energizing, and fun. During our monthly meetings (we call them Circle meetings), we make space for topics and activities including but not limited to the following:
–        Leadership: What does it mean to be a leader?
–        Intentional creativity: How may we imagine and give expression to that which is generative, different, and exciting?
–        Family/Relationships: How do we negotiate the challenges of work, love, intimacy and purpose?
–        Justice: How can we create institutions that seek justice for all?
–        Embodiment: How do we enjoy, honor, and take care of our bodies?
–        Play/Fun: How can we explore new activities and experiences together?
–        Stewardship: How do we use our time effectively? Our gifts and talents? Our own personal narratives?
–        Self-expression: How can we find our voices and amplify them?
Together we seek to re-imagine traditional models of leadership, allowing our creativity and unique experiences as women to inform how we lead our lives and express our voices. Our group is eclectic and testifies to our commitment to celebrate the diversity in age, experiences, backgrounds, and self-understandings among us. The Circle meeting format, which combines structured activities and informal conversation, frees participants to form relationships and enhance contemplative introspection by listening to and discussing experiences with others.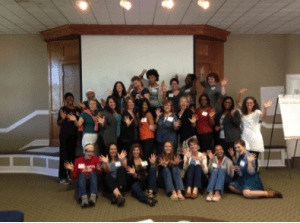 Over the last two years, diverse groups of women have gathered at the Woman to Woman Circle Meetings to learn more about themselves and each other. They have taken risks, challenged themselves, challenged one another, experienced growth, learned from their strengths and growing edges, experienced frustrations, created collages, written poems, made significant changes in their lives, made new friends and much more. Woman to Woman is a place where we celebrate the diversity and breadth of experiences among us. We affirm that leadership looks different to everyone and by considering leadership together; we gain new insight about what leadership can look like. Woman to Woman is a unique space that encourages women across different ages, backgrounds, and experiences to share and learn from one another. I am so excited that I get to journey with these amazing women and witness the power of connection and authenticity. I have learned so much from the women who have participated in the Circle meetings over the last two years and I have learned a lot about myself in the process as well. I am always amazed and grateful for the insight and honesty that is shared at the Circle meetings. It is also encouraging to see the relationships and self-discoveries made during the course of a meeting and over the length of the 9 month program. Woman to Woman creates a space for women to bring their wholes selves and reimagine leadership in community. We still have further to go as we continue to re-imagine new models of leadership that are empowering and inclusive. Woman to Woman is a place where the conversations about creative leadership models and practices are happening. This is empowering and uplifting work!
Our 2014/2015 co-hort is currently underway. This program meets on the 3rd Tuesday of the month from 6pm-8pm and the location alternates between Scarritt-Bennett Center and Vanderbilt Divinity School. We are not currently accepting new participants, but please contact us if you are interested in being part of the 2015/2016 Woman to Woman group. To learn more about Woman to Woman and keep up with what we are doing please follow us on Facebook. For more information please contact Chandra Allen: callen@scarrittbennett.org. You can also check out our program's website: https://vanderbilt.edu/womantowoman/index.php
Chandra Allen is a native Nashvillian.  She earned a Bachelor's degree in German from Davidson College in North Carolina and a Master of Divinity degree from Vanderbilt Divinity School.  She is currently an Assistant Director of Education, Programs, and Connections at Scarritt-Bennett Center where she plans programs focused on women's leadership and women's empowerment.  Chandra is passionate about creating an authentic environment where women and men gather to explore and awaken the strength of their voices, experiences, and creativity to effect positive change in their communities and for themselves.