Visiting Campus
Directions to Campus

From the north, take I-265 to I-40 east to exit 209B. Turn right on Broadway.
From the east or south, take 1-40 west to exit 209A. Turn left on Broadway.
From the west take I-40 east to exit 209B. Turn right on Broadway (US 70S).

Follow Broadway and veer right when it splits onto West End Avenue. Continue on West End to the stop light at 21st Avenue. Turn left on 21st Avenue. 21st is one-way. The Divinity School will be on your right, across the street from San Antonio Taco Co. and Ben and Jerry's.
Parking information

Public paid parking is available on the first two floors of Wesley Place Garage, located on the corner of Scarritt Place and 21st Avenue. Metered street parking is also available on streets near campus. After parking and crossing 21st Avenue, head up the sidewalk by the Library toward the brick building with the large spire. This is the Divinity School. You will enter on the Ground Floor, take the elevator or stairs up to the 1st floor. The Admissions Office is the first door on the right after you get off of the elevator, suite 135.
Ride Share

Lyft and Uber are both widely available throughout Nashville. Cars may drop-off and pick-up passengers directly in front of the Divinity School. 
Air & Bus Travel

Closest Airport: Nashville International Airport – BNA MegaBus Stop: T/A Truck Plaza at 111 N. 1st StreetGreyhound Bus Stop: 709 5th Ave S. 
Lodging

For low-cost lodging, we recommend booking at the Scarritt Bennett Center. When exiting the Divinity School, walk straight across 21st Ave and down Scarritt Place until you reach 19th Avenue. Scarritt Bennett Center will be directly in front of you. There are a variety of Vanderbilt area hotels within walking distance, as well as hotels and AirBnb rentals throughout the greater Nashville area. 
Things to do in Nashville

The Vanderbilt Bookstore is located at 2501 West End Ave, Nashville, TN 37203.Within walking distance, we recommend checking out Centennial Park, which is home to the Nashville Parthenon, as well as the dining and nightlife options of Midtown. You can also take a stroll down Music Row just a few blocks from the Divinity School! For more information about activities and attractions, check out Visit Music City. 
Campus Map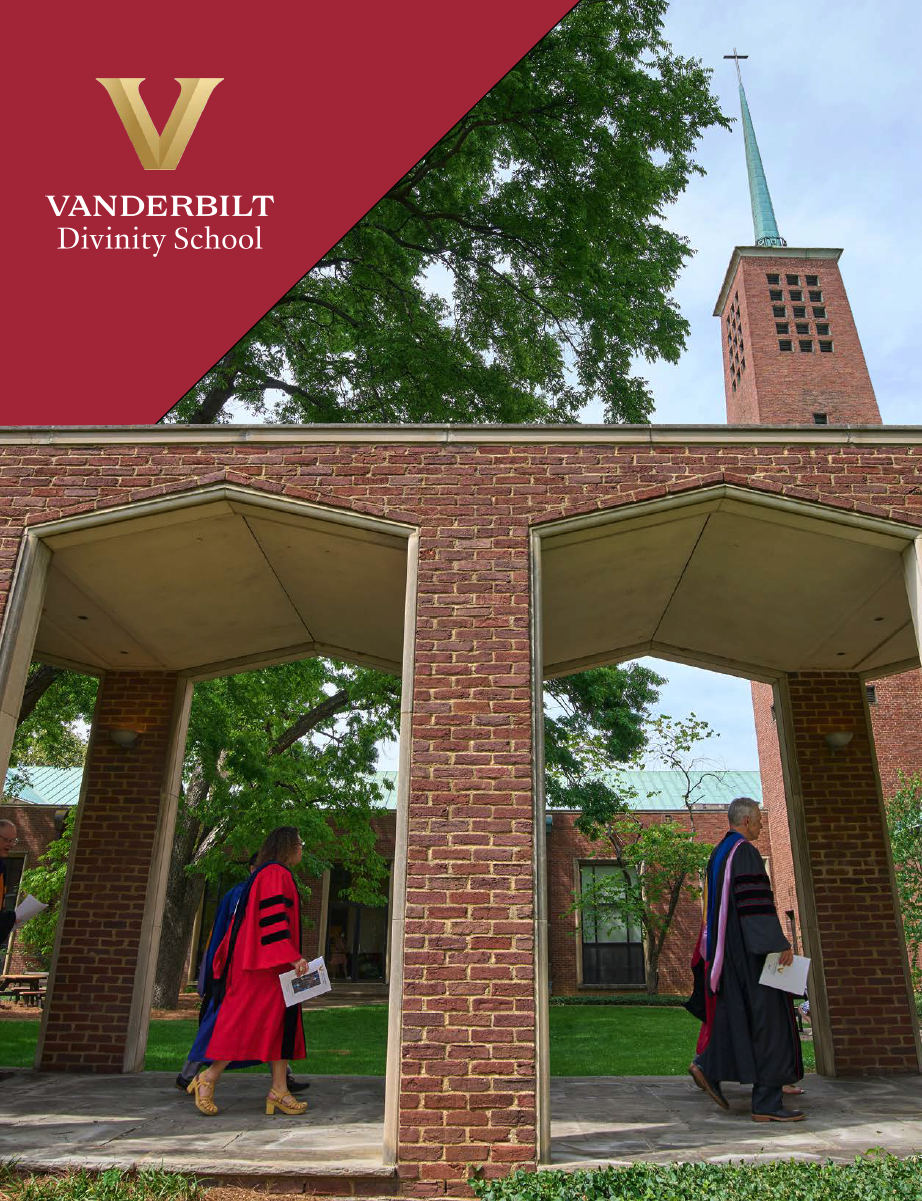 VDS Viewbook
Check out the VDS Viewbook! Explore faculty, degree programs, concentrations, certificates, what graduates do, and learn more about Nashville.
Individual Campus Visits
Vanderbilt Divinity School welcomes in-person and virtual campus visits during the fall semester.Sign up for a day that works with your schedule, and the staff of the Office of Admissions, Vocation, and Stewardship will put together a visit. Click HERE to set up a meeting with the Director of Recruitment and Admissions, Soren Hessler. We encourage you to check the homepage for virtual events such as lectures, panels, and special presentations by one of our innovative programs.
Virtual Tours
---
Visit Days

Image description: Photo of Kirkland Hall tower behind green leafy trees. Vanderbilt Divinity School logo is superimposed on the lower right-hand corner and the text over the blue sky reads "Come Visit VDS, November 4th."
Join us for a Fall Visit Day! November 4th, 9am to 2pm.
---
Webinars
Join the Divinity School admissions and vocational discernment team in webinars exploring graduate theological education. You may find webinars and other recorded events on the VDS Facebook page, and on our website. Access previous Admissions webinar recordings here. Access previous Vanderbilt Divinity webinar recordings here.
---
Association of Academic Divinity Schools Joint Recruiting Events
Vanderbilt Divinity School, Candler School of Theology, Duke Divinity School, Harvard Divinity School, Union Theological Seminary, University of Chicago Divinity School, and Yale Divinity School joint recruitment.
This year's webinars will take place on September 14th, October 18th, and November 16th.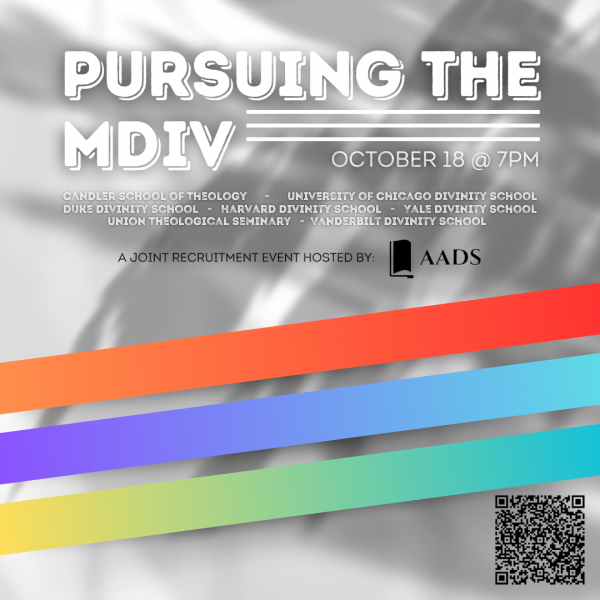 Explore the Master of Divinity on October 18th at 7pm Eastern/6pm Central, featuring representatives from all seven schools. Begins at 7pm Eastern/6pm Central. Registration required.