by Amy E. Steele, Assistant Dean for Student Life
In the common life of the Vanderbilt Divinity School community, there are three standing events that occur each week: the Monday Forum, the Wednesday Community Worship Service, and the Friday Coffee Hour.  Each event begins at 10:10 a.m. and provides opportunities for faculty, staff, students, and friends to engage in community fellowship.
What is Monday Forum?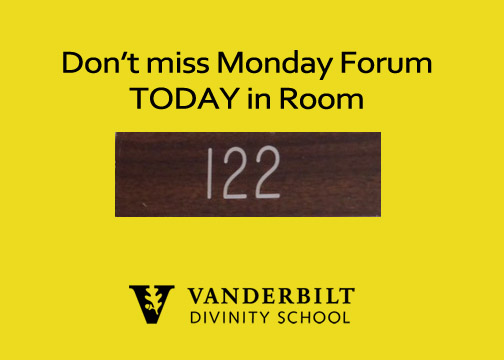 Monday Forum is an informal dialogue led by a guest speaker, student or student organization, professor, clergy, activist, or professional within and beyond the University.
I like to think of it as a "clearing" where students can gather between classes: to think vocationally; to develop common theological vocabularies and lexicons related to new areas of research in theological education; to hear the personal narratives of colleagues navigating the contours of their beliefs, experiences, and scholarly pursuits; to sharpen their writing and research skills; to learn more about the academic study of religion from the members of our faculty; to learn about global education initiatives, student organizations, field education; and finally, to sit with their ideas in a communally supportive environment.
Monday Forum nurtures cocurricular programming designed to support, sustain, and encourage passionate dialogue between the community and its partners. Past Monday Fora include:
Profiles on the Professions: the Church (the Reverend James "Hap" Hewgley), and the Academy (Professors Doug Knight and Kathleen Flake)
Real Talk: Dialogues on Race, Gender, Sexuality (hosted by student organizations)
Student Government Association and Student Organizations Panel (leaders of each of the student organizations)
Imagination Grant Research (annual recipients)
Abu Ali: Clemency and Death Penalty Advocacy (Attorneys Brad MacLean and Ed Miller, and the Reverend Joe Ingle)
Tennesseans for Alternatives to the Death Penalty (the Reverend Stacy Rector)
Pillow Talk: Navigating Graduate School with a Spouse (Professors Graham Reside and Barbara McClure)
Alive Hospice, Volunteer Services (Coordinator Cheryl Webster)
Applying for Graduate School and Getting In (Associate Dean James Byrd, Vanderbilt Graduate Department of Religion)
Center for Nonprofit Management (Vice-President Kim Carpenter Drake)
For more VDS events, click here.